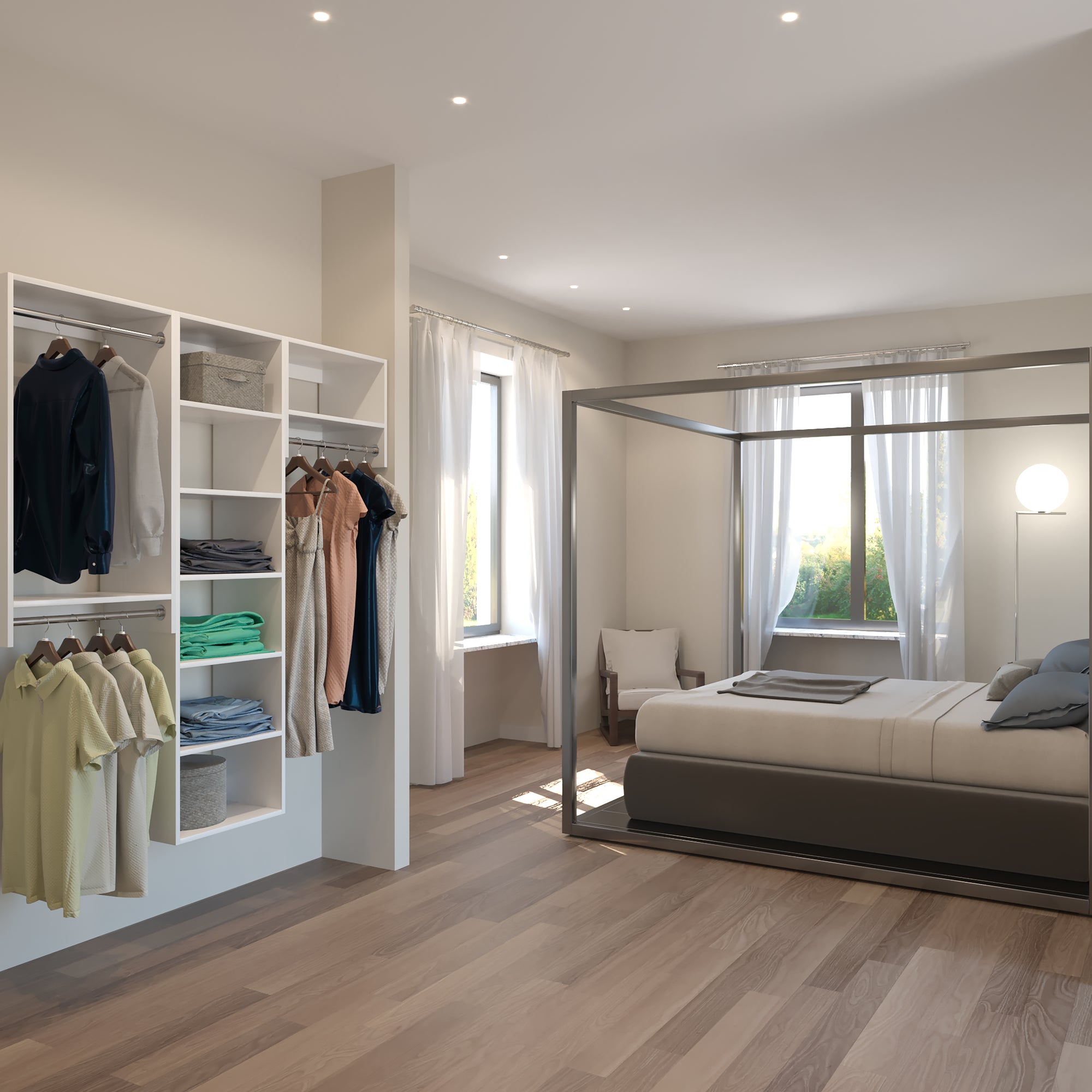 Closet Organization for Fall – Is Your Closet Ready?
Published in 10.16.2019
With that crunch of leaves beneath your feet and that sudden chill in the air, you know it's official that Fall is here. It's the time of year for pumpkins, apple cider, and hay rides…and also a perfect time to take a fresh look at your closet organization.  
Here at Modular Closets, we love helping homeowners find the simple, affordable ways to improve their lifestyle by getting better organized We're known for our modular approach to the custom closet – an easy DIY way to get the luxury closet system you've always wanted so you can finally have a beautiful, organized closet.
If you're ready to take your closet organization to the next level this Fall season, try out these 3 strategies:
1. Remove the Contents of Your Closet and Make a Decision on Each Item.
If you're ready to get fully organized, the process begins by removing everything (yes, everything) from your closet.
For many homeowners, not following through with this step is what keeps them from achieving a truly functional, well-organized closet. It "seems" easier to just clear out a few items at random….but in the long-term, such an approach means you never get a closet that works well as a whole. 
So, block out a weekend afternoon, put on your favorite music, and make it a game: 
As you remove each item, make a decision whether you will keep, sell, donate, or trash it. Create a point system and corresponding rewards that will encourage you to purge until all that remains is a streamlined wardrobe of the items that you love to wear, so you'll always be looking and feeling your best.
Pro tip: by keeping your wardrobe as streamlined as possible, it will be easier to keep clean and easier choose an outfit on a day-to-day basis. You'll also achieve the elegant minimalist look!
2. Sort Like with Like.
Once you've decided what to keep (hopefully now just a nice small pile left!), your next step is to sort like items together.
There is no single, universally "right" way to organize your closet contents. But you do want to figure out a way to categorize that makes sense for your lifestyle, wardrobe, and tastes.
For example, if your weekday wear is conservatively professional while your weekend wear shows your love for the outdoors, maybe this is the broad divide in how you organize your wardrobe. Or, maybe you're known for your love of color, so you want to sort everything by shades and tones.
3. Why a Closet System Leads to Improved Long-Term Closet Organization.
Now that you've sorted your wardrobe, you want to figure out how to put everything back in the closet so that your categories stay clear and every item has place where it belongs. 
The best way to keep your closet contents organized for the long-term is to incorporate a closet system of shelves, drawers, cubbies, and perhaps multiple rows of hanging rods in your closet.
Not only will such a closet system make full use of the space you have available within the closet, it will make it easy to know exactly how your categories are laid out.
If you're interested in how a closet system could transform your closet this Fall, our team here at Modular Closets will be happy to help you figure out a design that will match your needs and preferences. 
Get your free custom closet design!  
Tags
#modularclosetdiys
Closet design
Closet drawer unit
Closet drawers
Closet organization
Closet revolution
Clutter zones
Design theory
Diy
Double hanging
Entrepreneur
Fen shui
Frank loyd wright
Frills and drills
Home organization
Home tour
How to design your closet
How to get your closet organized
How to measure your closet
Imby
In the news
Kids bedroom closet
Kids closet
Kids closet desk
Lindsay dean
Mariekondo
Measuring guide
Minimalism
Minimalist architecture
Modular
Modular closet diys
Modular closets diys
Modular magic makeovers
Modular super tips
New
Organization
Organization tips
Organizing tips
Pallet wood
Pantry
Pantrygoals
Part 1
Part 2
Press
Project 333
Psychology
Reading nook
Shoe shelves
Slanted ceiling
Spring cleaning
Spring cleaning 2017
Spring cleaning checklist
The essential closet makeover
Wall panel
Wallpaper
Why people hate wire shelves
Wire you here
Zen
Zen bhuddism