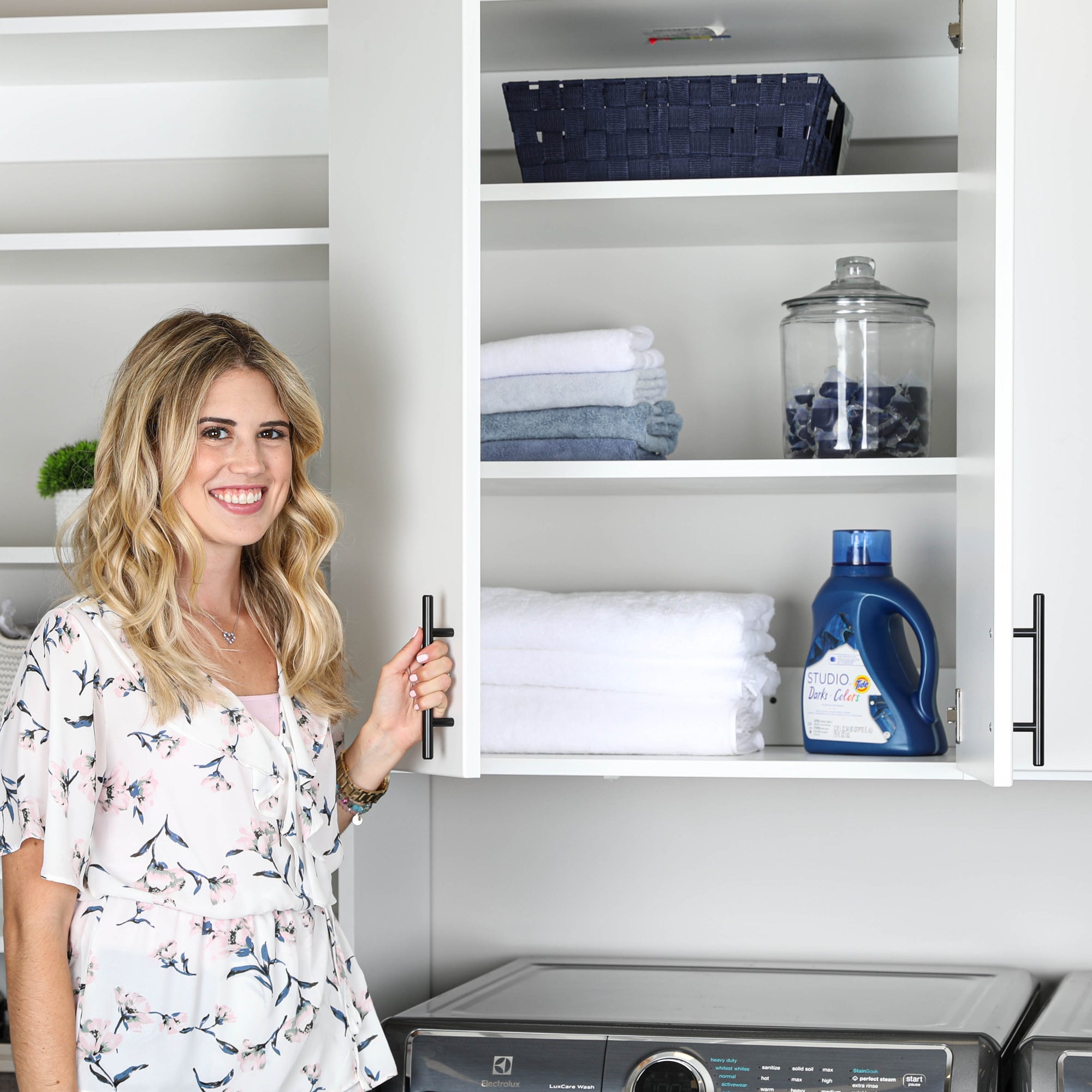 Christina's Corner // Don't Sleep on Cabinet Storage
Published in 10.22.2020
Let's Talk About Cabinets 
Do I realize that in my last blog I talked about how amazing open storage is for a laundry room? Yes, but we are here to talk about cabinets today and no one can stop me. I've said this before, but having diverse storage options is the key to organization.  
Remember those big chunky cabinets that I threw some shade at last week? Well with Modular Closets, you don't have to worry about that. Their cabinets fit seamlessly into any unit that you want for your laundry room. They automatically come with soft-closing doors and are available in both white and grey to complement your style. 
Keep Items Hidden and Safe
Cabinets can be used to, of course, hide the things that you
don't want to display, but they can also be used to keep the dangerous chemicals away from the children who don't need access to them. Out of sight, out of mind. They can also help with the clutter issues that tend to be found in busy laundry rooms. You can keep the awkward and bulky things that may clutter up an open shelf behind the doors of the cabinets and decrease the visual clutter. 
Now, let's be clear, cabinets need to be organized too. You can use the same tools that you use to keep the rest of the laundry room organized to keep the cabinets functional. If you missed it, read my last blog post about Solid Shelving to see what tools I am talking about. It may be easy to hide away clutter, but if you know it's there, it can have an adverse mental effect. 
Need Some Cabinet Inspiration?
The cabinet modules are perfect for any organization system and any room. From your pantry to your garage, I highly recommend installing cabinets to give yourself a little closed storage space. If you need inspiration, just check out these examples from Modular Closets clients and projects.
For more content from me, check out my blog here! Also, don't forget to follow Modular Closets on Facebook, Instagram, and Pinterest for more on their company, products, and people!
Happy Organizing!
-Christina Giaquinto  
Tags
#betterlivingwithchristina
#modularclosetdiys
Cabinets
Christinascorner
Closet design
Closet drawers
Closet organization
Closet revolution
Diy
Garage
Garageproject
Home office
Home organization
How to get your closet organized
Kitchen
Laundryroom
Lifestyle
Memorial day weekend
Modualrclosets
Modularclosets
Mother's day
Newyears2021
Organization
Organization tips
Organizeme
Organizing tips
Pantry
Pantrygoals
Shelf dividers
Shoewall
Solid shelves
Spring cleaning
Sub-categorize
Summer
Summer organization
Valetrod