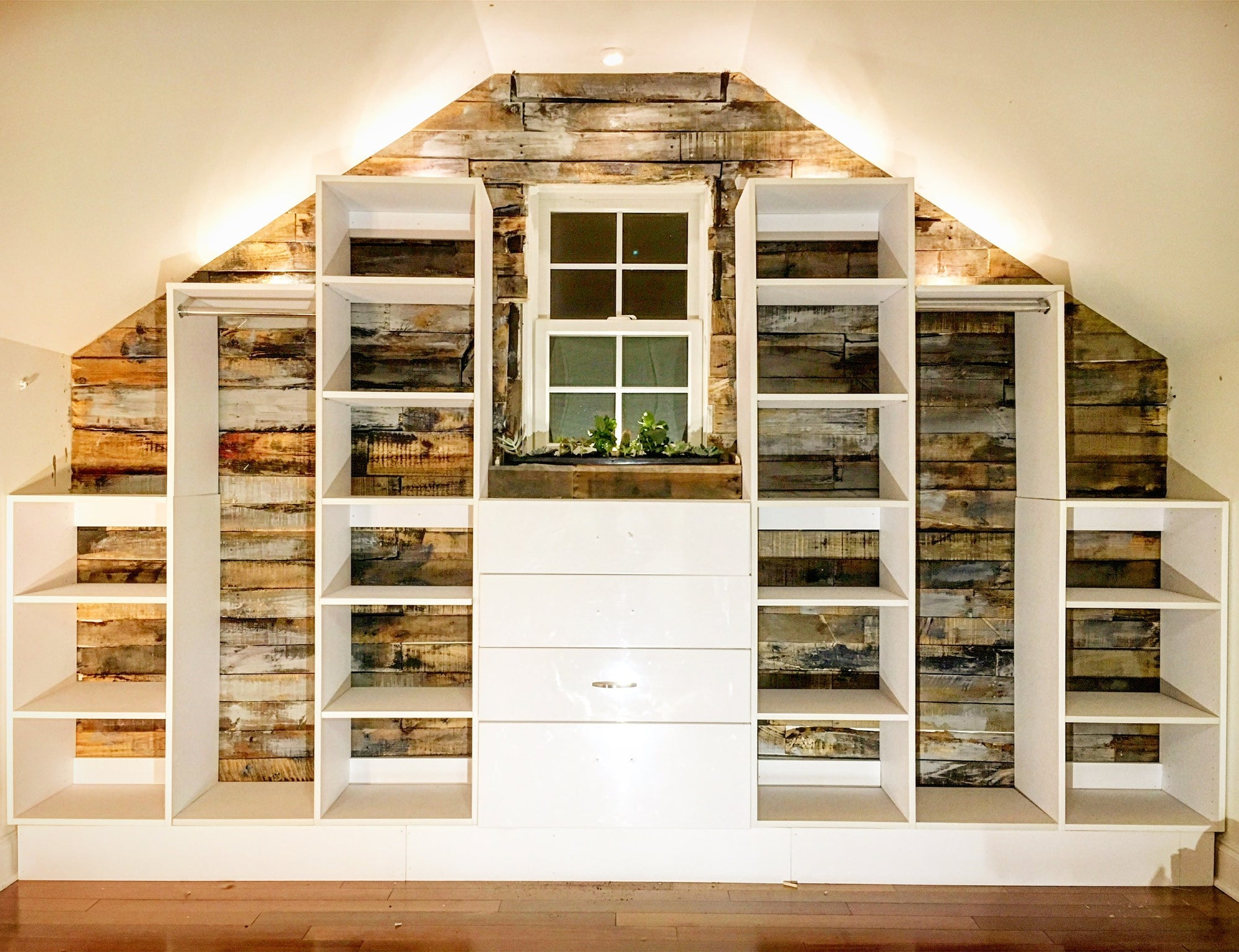 #ModularClosetDIYs: How To Design A Pallet Wall Closet With A Slanted Ceiling
Published in 11.8.2016
As part of our ongoing segment #ModularClosetDIYs, my latest DIY project tackles two things I'm passionate about: pallet walls & slanted ceilings. Since our office is a converted house, my CEO's office (read: master bedroom) has a nice empty walk-in closet = perfect project location. 
The BEFORE Pic:
All the trappings of a plain old, wire shelving, slanted ceiling closet. What we see: Rippling Modular Potential!
Prepping the Space 
After removing the old wire shelving and window moldings, I proceeded to mark off my studs to assure the securest possible anchor. 
The Art of Pallet Harvesting
As chance would have it, I secured myself a bunch of free pallets- Here they are in my backyard. 
I started by using a Sawzill, or reciprocating saw, to saw into the nails holding the cross boards to the main frame. Took a while to find the right blade, and I ended up switching over to a standard handsaw. This allowed me to saw the boards along the edge of the frame. The pieces ended up being smaller, but I found this method to be the easiest of all. 
After sanding down my pallet boards & setting up my 2.5" Nail Compressor, I began nailing the boards onto my closet wall at staggered intervals. I left a space where I knew the center Drawer Unit I'd planned to go under the window would be, figuring the drawer fronts would block the back wall. I was right;)
After finishing the lower half, it was time to tackle the slanted angles of the roof. Proud of this: I used a board held to the angle of the slant to mark my trim line on the pallet board that would be cut to fit the angle. Nice DIY tactic, if I do say so myself ::)
Oddly satisfying, fitting in the last few angular pieces, like below.
Here's a look at the pallet wall, pre-stained & pre-closeted:
I then mounted the Drawer Unit under the window, a perfect 30" wide to allow the adjacent Shelf Towers to flank either side of the window.
I planned out my Modular Closet to stand at 78" from the floor at the highest tower, calculating a 6" filler base I'd create using our matching filler strips. The base came out approximately 16" from the base to account for the 14" depth of the Modular Closet components & around 2" of pallet wall. I opted to just keep the Shelf Towers without adding closet Drawers to them.
Mounting the Shelf Towers (without their included floor supports) & smaller Shelf Unit left me some space in between to construct my own hanging area from a Rod & Shelf. I  wanted the staggered descending heights of the units to flow with the roof's slant.
Here's the completed slanted ceiling closet, all units installed:
Next morning, I went to Lowes & bought some discount cacti & a planter under the window. Fashioning a box from some leftover pallet boards was a cinch. 
I still need to finish the top of the Drawer Units & add additional drawer pulls, but here's the final closet pic: 
Tags
#modularclosetdiys
Closet design
Closet drawer unit
Closet drawers
Closet organization
Closet revolution
Clutter zones
Design theory
Diy
Double hanging
Entrepreneur
Fen shui
Frank loyd wright
Frills and drills
Home organization
Home tour
How to design your closet
How to get your closet organized
How to measure your closet
Imby
In the news
Kids bedroom closet
Kids closet
Kids closet desk
Lindsay dean
Mariekondo
Measuring guide
Minimalism
Minimalist architecture
Modular
Modular closet diys
Modular closets diys
Modular magic makeovers
Modular super tips
New
Organization
Organization tips
Organizing tips
Pallet wood
Pantry
Pantrygoals
Part 1
Part 2
Press
Project 333
Psychology
Reading nook
Shoe shelves
Slanted ceiling
Spring cleaning
Spring cleaning 2017
Spring cleaning checklist
The essential closet makeover
Wall panel
Wallpaper
Why people hate wire shelves
Wire you here
Zen
Zen bhuddism