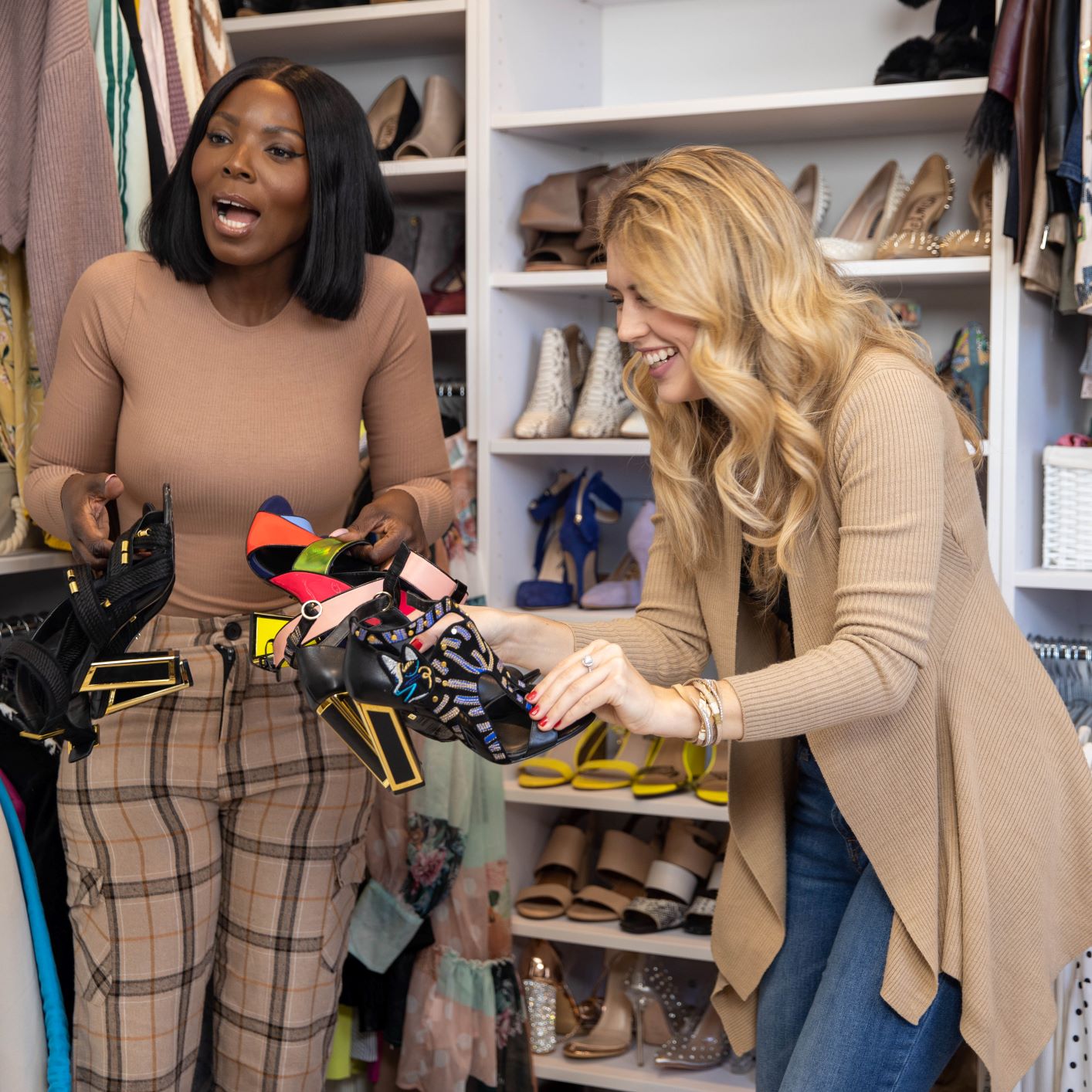 Christina's Corner // Organizing Your Shoe Wall!
Published in 2.18.2021
Hello everyone and welcome to another week of organization tips and tricks. Today we are going to be back in Ami McClure's closet and discussing the perfect ways to make your shoe wall function for you. 
We All Want a Shoe Wall.
Here at Modular Closets, we are no strangers to the magic of shoe walls. I know that I have spoken extensively on the subject but I thought that today would be a good day to walk through how to organize your shoe wall.
Adjustable Shelves Will Save Your Shoe Storage! 
First and foremost, I want to talk about my favorite feature of our shoe walls and really all of our shelves: they are all adjustable. Modular Closets build their systems with different lifestyles and needs in mind, so, they designed the shelving units with height-adjustable shelves to ensure that you can store whatever you need. Ami realized that if she adjusted the height of her shelves, she could fit a whole other shelf in the unit and make room for more shoes.
And if you have seen her shoe collection, you know that she definitely needs all the space to display her BEAUTIFUL shoes that she can get! 
Functionality and Aesthetics Don't Have to Be Mutually Exclusive! 
How you organize your shoes is 100% up to you. If you prefer to organize them by types of shoes that's fine. But also keep in mind that you have options. Categorizing your shoes by color, style, use, and even brand are all great strategies that allow you to know exactly where your shoes are, see all of your options, and make a beautiful display moment in your closet. Organization is about more than just aesthetics, it's about functionality. Examine what you wear most and make sure that you have easy access to those things. This applies for more than just your shoes, so keep this in mind as you organize the other areas of your closet!
Have An Extra Shelf?
If you don't have as many shoes as Ami but still love the idea of a shoe wall, you still have plenty of options. One of things that I like to do is decorate one or two shelves with my favorite items that provide a touch of personality to my space. You can fill your extra shelf with things like:
Handbags

Framed Pictures or Artwork

Unlit Candles

You Prettiest Pair of Shoes

A Hat

Collectibles
The opportunities are literally endless. Just pick the things that best represent you and make your shoe wall fun! 
My Favorite Shoe Tip!
My final tip for organizing your shoe wall is something that I share all the time because it's something that I really think everyone should know about. If you alternate the directions that your shoes are facing, you will be able to fit more pairs of shoes on a shelf. Don't believe me? Try it! Trust me, it will create more space for you and you will never organize your shoes the same way again! 
If you would like to install a Modular Closet system with a shoe wall, you can find the Module that you need here. You can choose from either solid or slanted adjustable shelves, either way, you will have all of the space you need to create the shoe wall of your dreams!
Need Some Help?
Having a tough time organizing? You can always email me at christina@modularclosets.com and I will gladly give you some guidance.
Don't forget to follow Modular Closets on Facebook, Instagram, and Pinterest! We are also on YouTube and you can subscribe to our channel here! If you missed my last blog post, you can read it here! 
Happy Organizing! 
-Christina Giaquinto
Tags
#betterlivingwithchristina
#modularclosetdiys
Cabinets
Christinascorner
Closet design
Closet drawers
Closet organization
Closet revolution
Diy
Garage
Garageproject
Home office
Home organization
How to get your closet organized
Kitchen
Laundryroom
Lifestyle
Memorial day weekend
Modualrclosets
Modularclosets
Mother's day
Newyears2021
Organization
Organization tips
Organizeme
Organizing tips
Pantry
Pantrygoals
Shelf dividers
Shoewall
Solid shelves
Spring cleaning
Sub-categorize
Summer
Summer organization
Valetrod