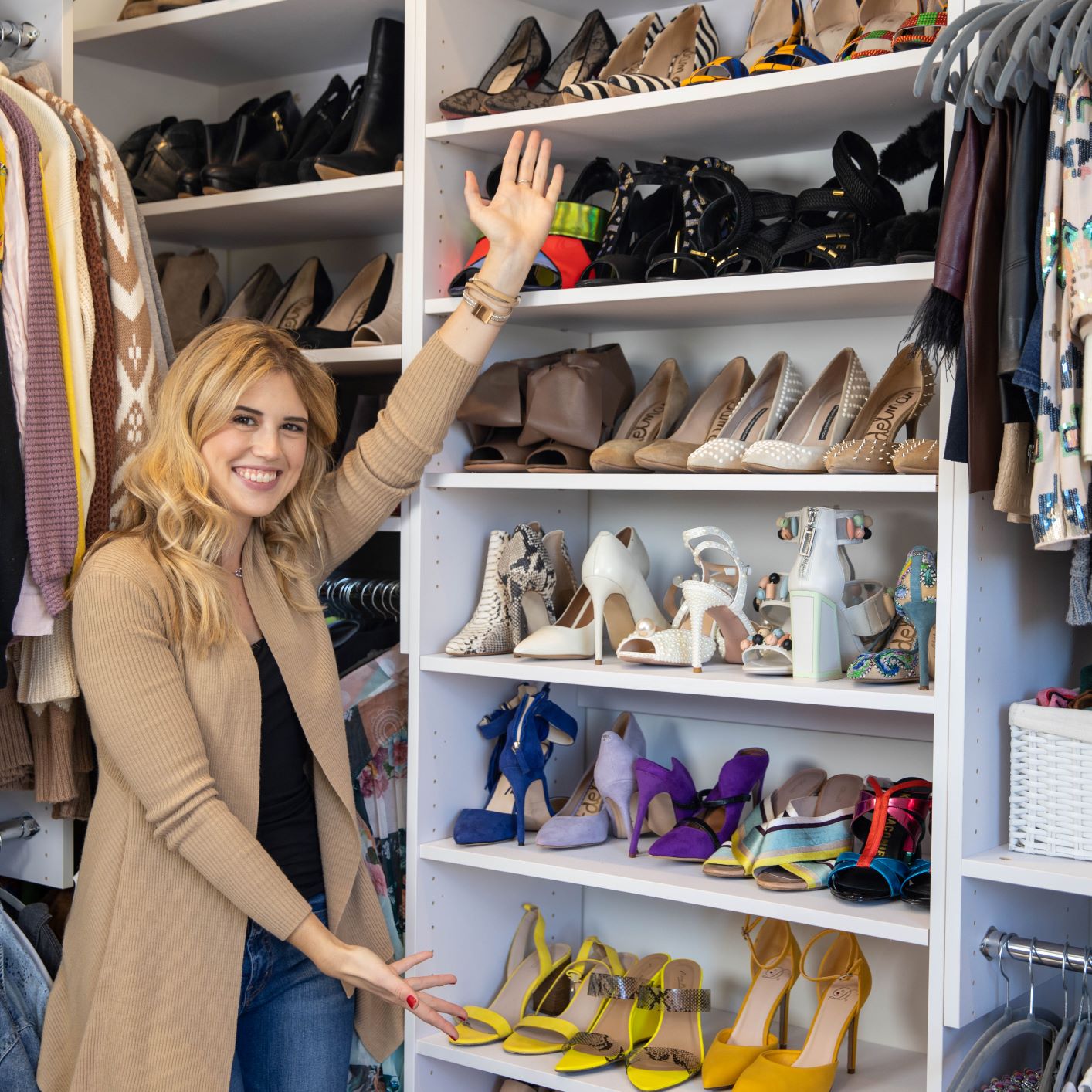 Christina's Corner // Shoe Walls are the Perfect Addition to Your Closet
Published in 12.10.2020
Happy New Year everyone! I am back with more content to share with you as we move into 2021! I have some great ideas for a few new years projects and I knew I needed some help! So, I flew to Atlanta and filmed with the McClure Family at their house so that you guys could see some real-life applications of our products outside of the studio! 
We started this series off with a look inside the master closet, specifically, Ami's shoe wall. 
Shoe walls are, in my opinion, the easiest way to make a dramatic statement in your closet. All it takes to accomplish are some sturdy shelves - preferably Modular Closet shelves- and your favorite pairs of shoes. We have the perfect shelving units for this project here! You can organize the shoes any way you like and if you have enough shoes and space, you can have a floor to ceiling display. 
You have so many options when it comes to organizing your shoes.
Style them by color and have a ROYGBIV moment.

Group them by the types of shoes -so, your boots are together and your flats are together.

Organize them by the designer.

Place the ones you wear the most in easy reach and leave the shoes you wear least often on the taller shelves.
The most important thing as you style your shoe wall is to make sure that the space is functional for you and your lifestyle! You can find another blog on how to organize your shoes here! Our social media team shared a quote earlier this month by Nate Berkus that reads:
"Your home should tell the story of who you are, and be a collection of what you love brought together under one roof."
Your closet is a part of that story of who you are. So, if you like the idea of a shoe wall but have far more bags, hats, or jewelry that you want to display, then do it! You can still use Modular Closet's systems to build the perfect space to display what you are passionate about in any room of the house. 
I really do love a good shoe wall, but if you have a more creative way to use the space, let me know! 
Look for our tall closet systems here and don't miss out on all of the other blogs that I have by visiting my blog Christina's Corner. I have a ton of helpful hints to make your home organization process a breeze! Visit Modular Closet's website to see our full array of products! Don't forget to follow us on Instagram, Facebook, and Pinterest!  
Happy Organizing! 
-Christina Giaquinto
Tags
#betterlivingwithchristina
#modularclosetdiys
Cabinets
Christinascorner
Closet design
Closet drawers
Closet organization
Closet revolution
Diy
Garage
Garageproject
Home office
Home organization
How to get your closet organized
Kitchen
Laundryroom
Lifestyle
Memorial day weekend
Modualrclosets
Modularclosets
Mother's day
Newyears2021
Organization
Organization tips
Organizeme
Organizing tips
Pantry
Pantrygoals
Shelf dividers
Shoewall
Solid shelves
Spring cleaning
Sub-categorize
Summer
Summer organization
Valetrod