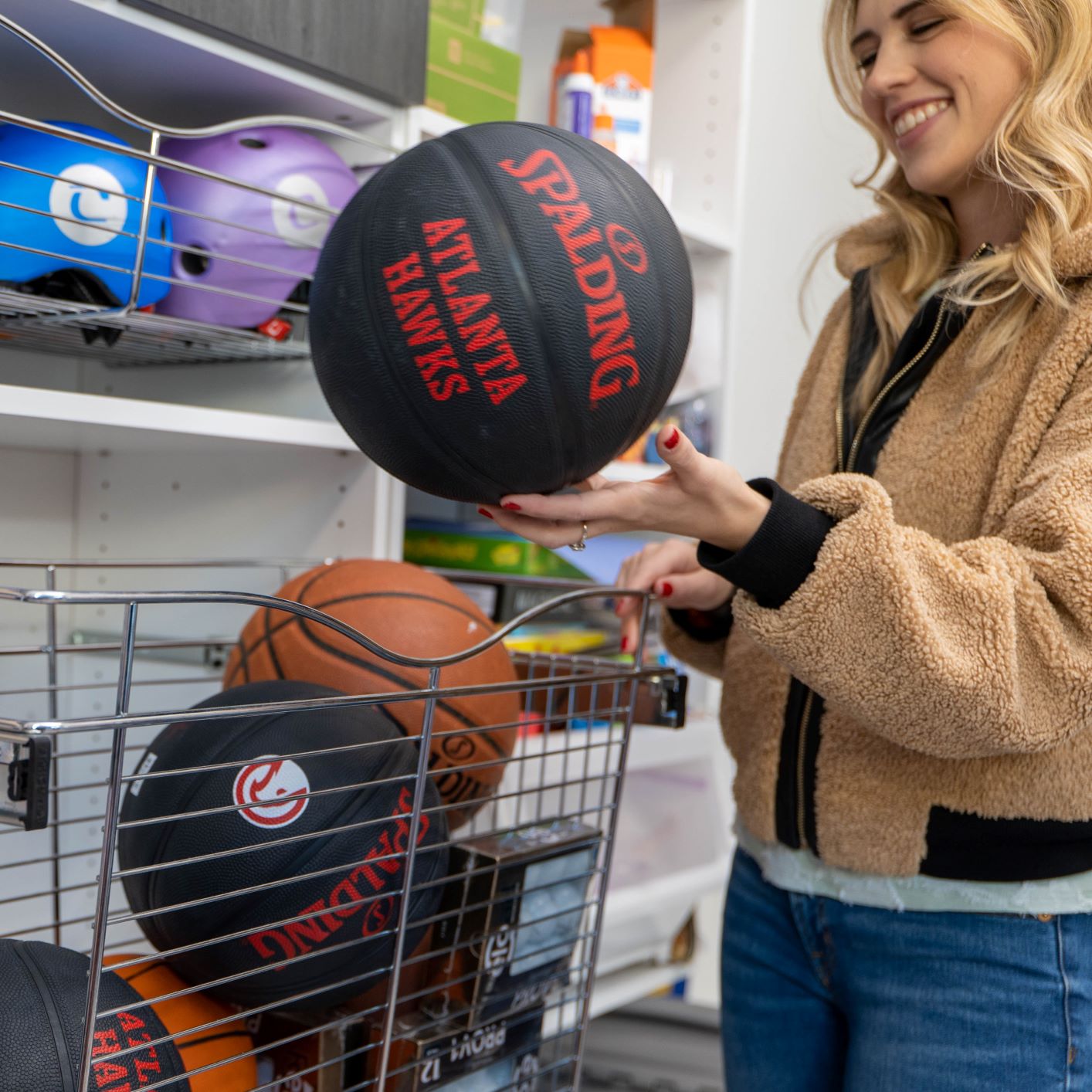 Christina's Corner // Wire Pull-Out Drawers Are the KEY to an Organized Garage!
Published in 1.21.2021
Hello everyone! We are continuing our organizational tips from the McClure house in Atlanta and this week we are talking about one of the accessories in their garage: Modular Closet's Wire Pull-Out Drawer. 
The Perfect System
They have a garage system that we helped them design earlier last year! (You can watch that transformation here) It's beautiful, modern, and full of storage space! The McClure's wanted plenty of versatile storage and part of that included the wire drawers!
These drawers are able to hold the bulky and awkward items that you don't know what to do with. They come in a couple of sizes to fit your unit and your needs and they are the perfect addition to a garage organizational system. 
What Can You Store?
The McClure's use their baskets for storing toys, basketballs, and equipment, but, they are truly great for equipment like:
Yoga Mats

Camera Gear

Gardening Tools

Large Totes
My Favorite Accessory
These baskets are one of my favorite tools for the garage because that space is usually a catch-all storage spot that can get cluttered very quickly. By implementing versatile storage options, you will be able to find a home for just about anything that you need to. 
Do They Just Belong in the Garage?
Nope! You can use your Modular Closet's Wire Pull-Out Drawer in any Modular System that you have in any room of the house! My favorite place to put one is in the bottom of a pantry system! It creates a great space to store you root vegetables. You can also have one in your closet or mudroom unit to store shoes! Truly, you could probably find a reason to put one of these in every room of your house. 
Where would you use your wire drawer? Leave a comment below and tell me what you think about this amazing accessory from Modular Closets! Also, tell me how you would organize your garage!
If you need more suggestions on how to keep your space organized, check out my blog, Christina's Corner! Also, don't forget to follow Modular Closets on Instagram, Facebook, and Pinterest!  Subscribe to Modular Closets on YouTube and visit www.modularclosets.com to design your closet! If you haven't been keeping up with my January Home Organization Mini Series, you can read the first post here! 
Happy Organizing! 
-Christina Giaquinto!
Tags
#betterlivingwithchristina
#modularclosetdiys
Cabinets
Christinascorner
Closet design
Closet drawers
Closet organization
Closet revolution
Diy
Garage
Garageproject
Home office
Home organization
How to get your closet organized
Kitchen
Laundryroom
Lifestyle
Memorial day weekend
Modualrclosets
Modularclosets
Mother's day
Newyears2021
Organization
Organization tips
Organizeme
Organizing tips
Pantry
Pantrygoals
Shelf dividers
Shoewall
Solid shelves
Spring cleaning
Sub-categorize
Summer
Summer organization
Valetrod