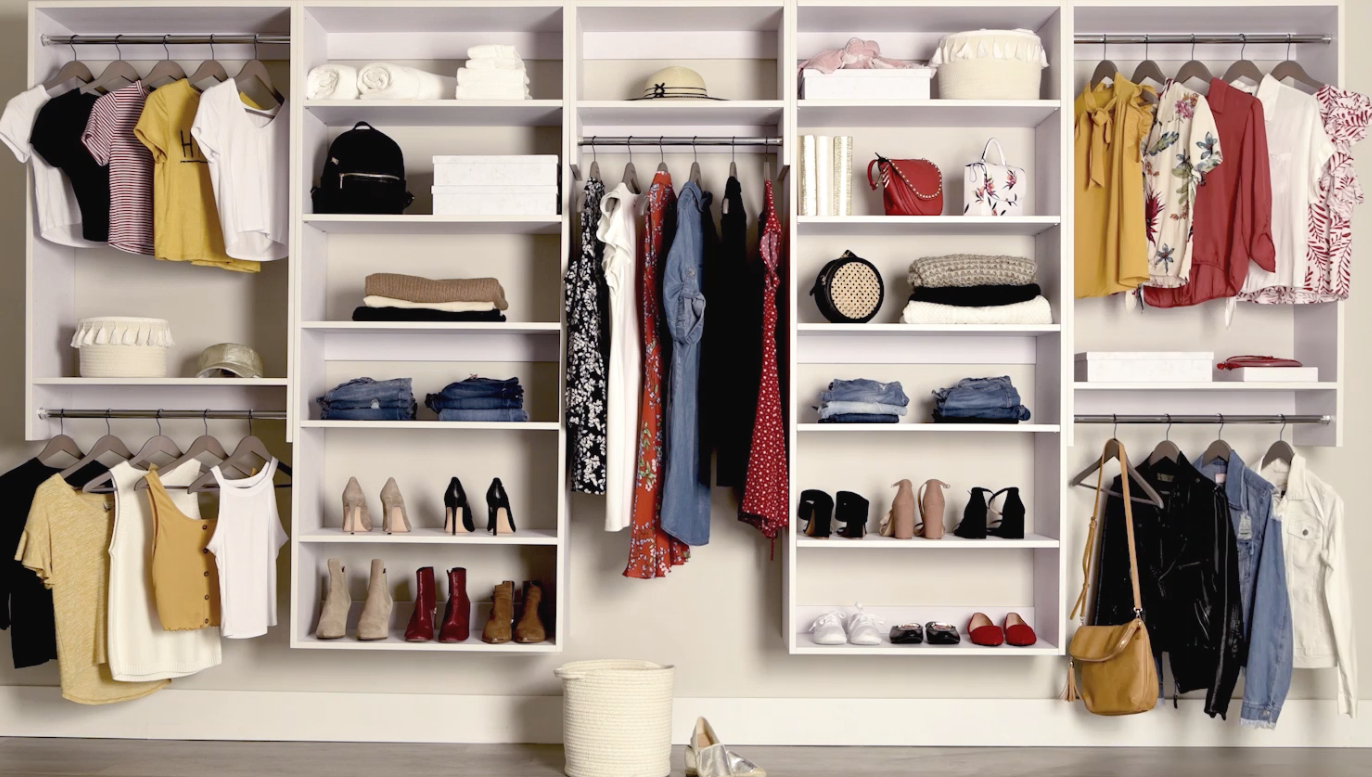 4 Creative Home Organization Ideas So You Get 2020 Started Off Right
Published in 1.13.2020
Does your home need to be better organized and efficient?  There are many reasons why a home organization might be high on your list of priorities for 2020.
For example, maybe your family has expanded and your current organizational ways can't keep up with all the new demands. Or, maybe you're downsizing and need to maximize the available storage in a new home.
Or, maybe you just need to make 2020 the year (and the decade!) when you're finally able to find things quickly and easily so there's less stress as you're going through your daily routine.
Whatever your reason, you'll probably find you end up getting multiple benefits from putting in place a more creative storage plan. As experts in customized closet systems, our team here at Modular Closets has witnessed countless stories of happy homeowners who found a new sense of life and energy by finally getting rid of all the clutter.  
If you're curious as to how you might level-up your home organization for this new year, here are 4 tips:
1. Master Bedroom Closet Organization
Whether you have a walk-in or a reach-in closet, there are all sorts of possibilities for how you can organize your belongings so that they're not only more accessible but more beautifully displayed.
You want to organize not only your clothing, but your shoes, ties, belts, jewelry, and other accessories too in order to maximize space and efficiency. Add a spot for a pull-out hamper and a valet rod, and you'll be able to easily clean up in the evening and get prepared for the day ahead.
2. Home Office Organization
Whether you're someone who works from home or you just use your home office to collect and file paperwork and bills, an organized office can help you save time and improve your productivity.
Do you need drawers for office supplies and files? Or maybe open shelves with bins to categorize your different projects and expenses?
No more papers lying around everywhere, your home office can be a clean fresh slate for you to get 2020 off to a new start.
3. Laundry Room Organization
Laundry is typically not anyone's favorite household chore, but if you bring brightness and organization to your laundry room, you might not mind having to spend time there.
Your clothes may be dirty, but the laundry room ought to evoke the sense of cleanliness you hope to see when your clothes come out of the dryer. There are multiple ways to configure a laundry room space to make it more organized and clutter-free.
For example, maybe you can use a system of shelves with baskets to separate the various loads, with space for a fold-up ironing board and hanging rods for clothes that need to air dry.
4. Family Room Organization
Once your work and chores are done for the day, you might enjoy relaxing in a family room with a neat and organized entertainment center.
With a big screen tv as a focal point, you can create a customized system of shelves and drawers around it to hold all your media and devices while displaying some favorite photographs and family mementos.
It could be the perfect space to invite everyone over for movie night, or just relax and feel cozy at home with your immediate family. 
If you're ready to transform your home organization for 2020, our team at Modular Closets is here and happy to help. We'll even give you a FREE closet design so you can see how a customized system of shelves, drawers, and/or hanging rods could transform your space. 
Just fill out the form to get a free closet design! 
Tags
#modularclosetdiys
Closet design
Closet drawer unit
Closet drawers
Closet organization
Closet revolution
Clutter zones
Design theory
Diy
Double hanging
Entrepreneur
Fen shui
Frank loyd wright
Frills and drills
Home organization
Home tour
How to design your closet
How to get your closet organized
How to measure your closet
Imby
In the news
Kids bedroom closet
Kids closet
Kids closet desk
Lindsay dean
Mariekondo
Measuring guide
Minimalism
Minimalist architecture
Modular
Modular closet diys
Modular closets diys
Modular magic makeovers
Modular super tips
New
Organization
Organization tips
Organizing tips
Pallet wood
Pantry
Pantrygoals
Part 1
Part 2
Press
Project 333
Psychology
Reading nook
Shoe shelves
Slanted ceiling
Spring cleaning
Spring cleaning 2017
Spring cleaning checklist
The essential closet makeover
Wall panel
Wallpaper
Why people hate wire shelves
Wire you here
Zen
Zen bhuddism