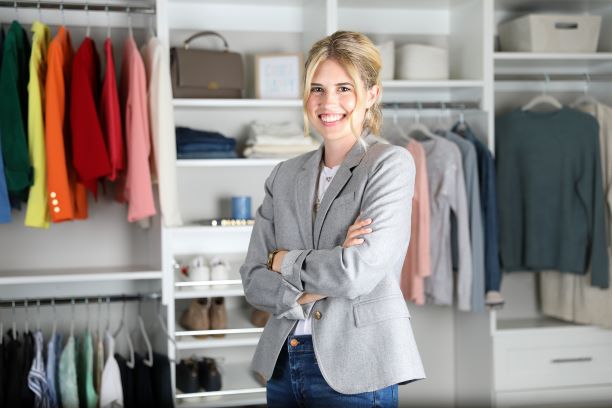 Christina's Corner // Valet Rods Are Your New BFF!
Published in 8.3.2020
Hello! I'm Christina Giaquinto and I am an organization coach and your friend at Modular Closets. Together, we will be sharing my advice and tricks for organizing your space and your life every week. My goal is to help others find happiness in their own space. So keep an eye out for my weekly blog and video and make your space work for you.
As we start this series, I want to dive into something I think a lot of people struggle with: mornings. As much as I wish our days could start at 11, that's not how our world works. I understand that not everyone has as much aversion to mornings as I do, but I think that my advice can help everyone have a more relaxing morning, no matter what time you wake up. 
Let's Talk About Mornings
  I can say, with confidence, that getting out the door on time in the morning is not one of my strong suits.   Especially post-quarantine, getting back into the groove of that daily grind has been a bit difficult. We spent a few months working in our yoga-pants from the comfort of our home and that hasn't done any favors for my morning motivation. But as we slowly and hopefully move back towards normalcy, I want to be able to take control of my routine again. 
What Can I Do to Change?
 As a person who preaches organization - it's literally my job - I feel the need to implement the advice that I give my clients in my own life. We can all stand a little more organization in our lives so, as I try and get a hold of my normal life again, it's very important to me that I make the changes in my routine to keep me at the top of my game every day. 
The most effective organizational tool that I have found for my weekday struggles is preparation. If I take a few minutes the night before to prep my food, plan my day, and lay out my clothes for the next day, my mornings instantly become 1000% easier. I can roll out of bed and be out the door without feeling rushed or stressed which automatically improves my attitude towards early mornings.
The Perfect Closet Accessory
I have a Modular Closet and one of my favorite features is the valet rod. It's an easily accessible rod that slides out of your cabinet unit to provide the perfect spot for hanging tomorrow's clothes. By taking this small step, I end up getting to sleep later and getting to spend more time for myself before work. My goal is to make this second nature before going to sleep. I will say though, I'm still working on remembering to put my shoes out too so don't' forget!  
Want To See More?
That's it! That's my first tip! To see the video of how to use the valet rod, click here. Also, don't forget to follow Modular Closets on Facebook, Pinterest to build your perfect closet, and get more tips from me! 
Tags
#betterlivingwithchristina
#modularclosetdiys
Cabinets
Christinascorner
Closet design
Closet drawers
Closet organization
Closet revolution
Diy
Garage
Garageproject
Home office
Home organization
How to get your closet organized
Kitchen
Laundryroom
Lifestyle
Memorial day weekend
Modualrclosets
Modularclosets
Mother's day
Newyears2021
Organization
Organization tips
Organizeme
Organizing tips
Pantry
Pantrygoals
Shelf dividers
Shoewall
Solid shelves
Spring cleaning
Sub-categorize
Summer
Summer organization
Valetrod