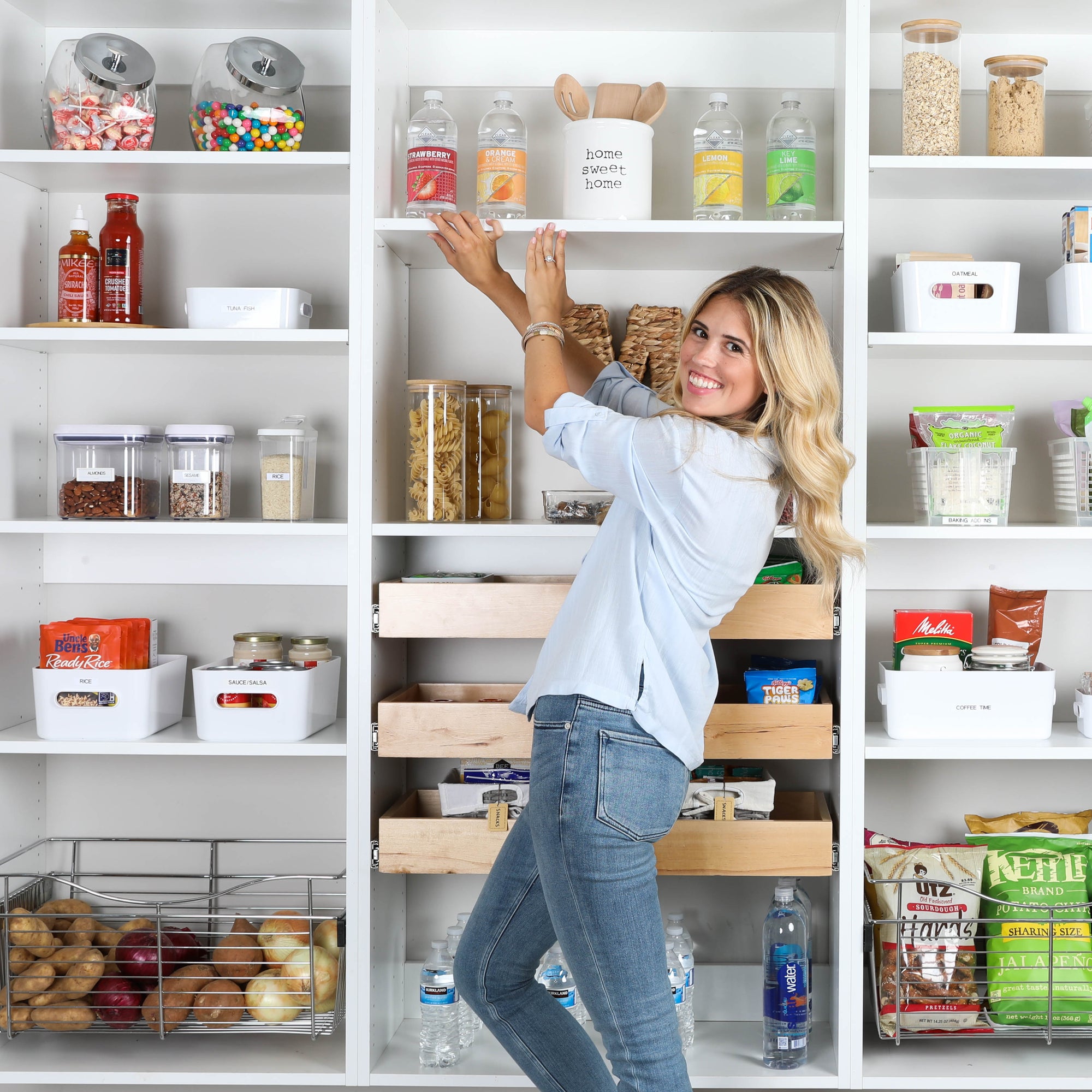 Adjustable Pantry Shelving Makes Pantry Organization So Easy!
Published in 9.10.2020
Pantry Shelving for an Awesomely Organized Space
One thing t
hat most living spaces have in common, is the presence of a pantry of some sort. Whether it's a small cabinet or a large walk-in space, the pantry area is essential to our every day lives. Keeping it organized is a challenge to everyone – including those of us who organize for a living. 
New Month, New Series
In this next series, we will be looking at different options for pantry optimization no matter what size or shape the pantry you have. Of course, Modular Closets has some of the best closet systems and accessories to help you reach your pantry goals and we will be taking a look at all of those options as we move through this series. 
Get Up and Go to Your Kitchen
I want you to take a moment and look at what you have in your pantry. I'm sure there are a few staples that most people store in their pantries like canned goods, cereal, flour, sugar, etc… But we all have our own tastes and that means that we have products of all shapes and sizes that your standard metal pantry shelving won't always accommodate. 
Modular Closets Has A Solution
Modular Closets has customizable pantry systems that have adjustable pantry shelving that will help you keep your pantry decluttered and optimized no matter what your needs. All it takes is a few simple steps. First of all, group all of your foods and products together so that you can organize them in sections. Second, take some time to adjust the shelves to best suit your groups. For example, if all your pasta is on one shelf, it's going to need to be a bit taller than the shelf that holds all of your baking goods. By doing this, you can keep the items that you use most frequently in easy reach.
These adjustable shelves also add an aesthetic element that you won't find in most stand
ard pantry spaces. We all aspire for a Pinterest-worthy space and by adjusting your shelves to specifically fit your needs, you can eliminate any unused space creating a beautiful, clutter-free, pantry. 
We Want to Hear From You
If you want to see more tips and tricks like this one, don't forget to follow me and Modular Closets on Instagram! We are here to help you make your home, work for you! If there are any questions or k
inds of content you want to see, reach out on Facebook! 
Tags
#betterlivingwithchristina
#modularclosetdiys
Cabinets
Christinascorner
Closet design
Closet drawers
Closet organization
Closet revolution
Diy
Garage
Garageproject
Home office
Home organization
How to get your closet organized
Kitchen
Laundryroom
Lifestyle
Memorial day weekend
Modualrclosets
Modularclosets
Mother's day
Newyears2021
Organization
Organization tips
Organizeme
Organizing tips
Pantry
Pantrygoals
Shelf dividers
Shoewall
Solid shelves
Spring cleaning
Sub-categorize
Summer
Summer organization
Valetrod