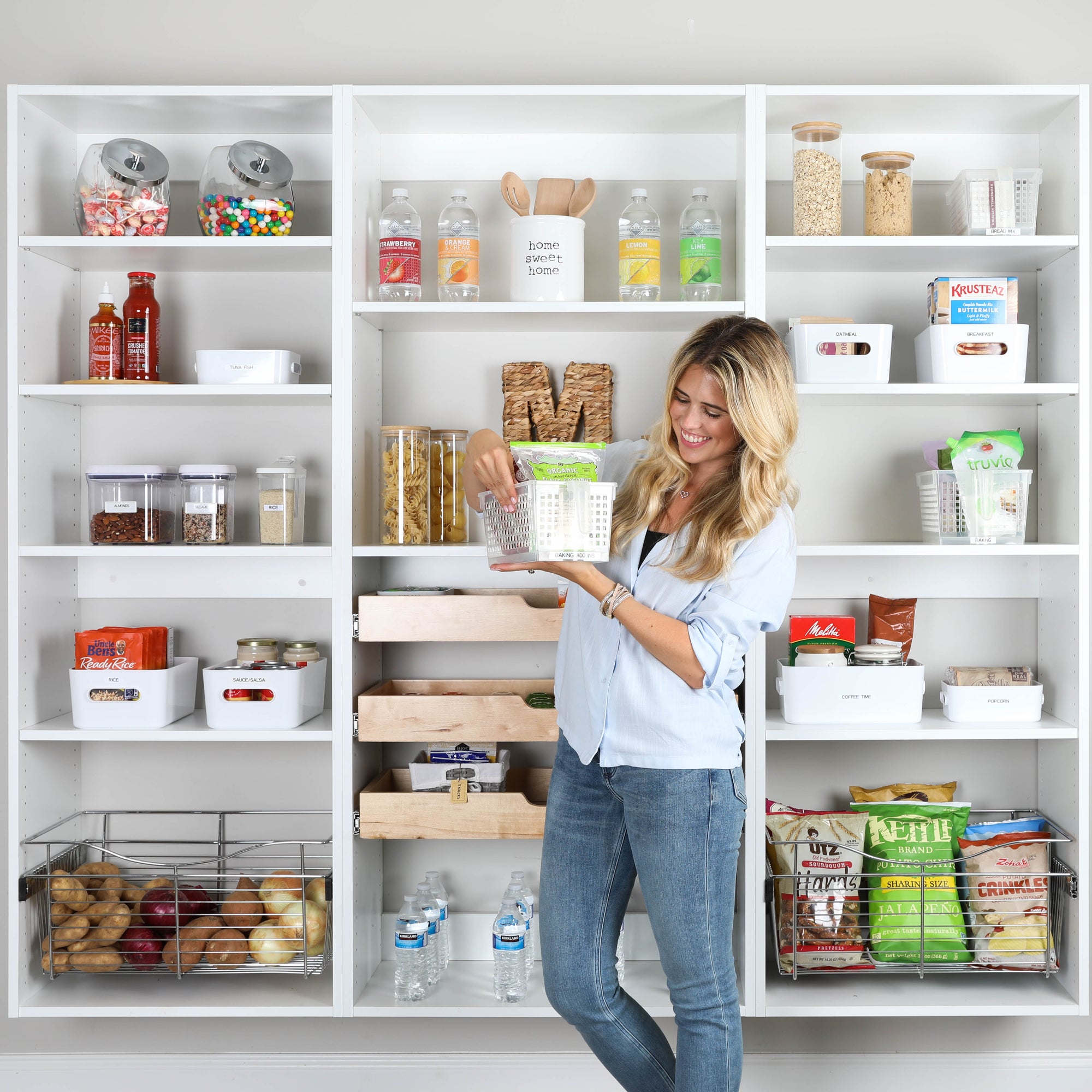 Christina's Corner // Categorizing Your Pantry Makes All the Difference!
Published in 9.17.2020
We all know that I strive to organize everything in my life, but let me tell you, one of the most frustrating things for me is when I can't find things in my pantry. It's one of the easiest places to get cluttered and crowded in the whole house. With food constantly coming in and out, finding the little pieces of the baking puzzle can be a nightmare. 
You already know I have a solution to this problem so let's get into it. Here are the easiest steps you can take to get your pantry into a functional and accessible space. Before you bake, shop, or restock, take some time to follow these steps and I guarantee that it will make the process easier. 
Step One // Clean it out!
First things first: Empty your pantry. I know this may sound daunting, but I promise once you get everything out of the space and on a table or counter top where you can see everything, organizing will be so much easier. At this point, don't even worry about organizing, just get it out of your pantry. Once that is done, you have a clean slate to work with. 
On that note, be sure you give your shelves and organizational components a good clean before you start restocking. There is nothing like a clean space to get you motivated to keep it organized and clutter-free.
Step Two // Group Like Items Together
Go through all of your items and categorize them into groups of like items. This means checking expiration dates and deciding what you want to keep and what you want to throw away. Another option you have here is to donate food items that are still good, but you know you probably won't consume. 
After you have all of the things that you are going to keep, go ahead and group them together. So, your categories may look a little something like this:
Pasta

Canned Goods

Baking Staples

Breakfast Foods

Snacks
You get the idea. By placing all of these together and seeing what you have, you can see what kind of space you will need to organize your products. I highly recommend you install a Modular Closets system so you can get the Adjustable Shelves. I have a whole other blog about those so I won't get into that. But you can read the blog here. 
Once you know where you are going to place these groups in your pantry, it's time to restock! If you want to stop here and just have the groups as they are now, that's perfectly fine and you are doing so much to help yourself. But there is still one more step that you can take to achieve your best pantry life. 
Step Three // Sub-Categorize 
This last step is all about Sub -Categorization! This is the time to pull out that trusty label maker and get busy! If you don't have one, I like this one, but really that's just an extra little step you can take. But by sub-categorizing your pantry items, you are truly elevating the level of organization in your space. 
To implement this all you have to do is take those groups that you made earlier and divide them up too. For example, if you have kids that love mac & cheese, separate it from your regular pasta and hold it in a separate container. (and label the container if you want) The items will be grouped together still, but everything will have a specific home that is easily accessible. Your groups may look a bit like this:
Pasta

Mac & cheese

Gluten-free pasta

Instant pasta

Canned Goods

Soups

Vegetables

Beans

Fruits 

Baking Staples

Flours

Sugars

Baking extras

Chocolate chips

Shredded coconut

Pecans 

Breakfast Foods

Cereals

Grab & go breakfast

Oatmeal 

Snacks

Bags of chips

Crackers

Cookies

Protein bars
Hopefully, you get the point. But by separating all of these items and having a designated place for them, it will make taking inventory of what you have and what you need easier, it will decrease your prep time for baking and making the process smoother, and it will allow you to easily and quickly put away your groceries after you shop. 
I hope by showing you these easy hacks, you can stop stressing about the state of your pantry and instead spend more time enjoying your space. Please let me know if this worked for you! I look forward to hearing from you! As always, for more tips like this, you can follow Christina's Corner. You can also see all of my tips on the Modular Closet Facebook, Instagram , and Pinterest! 
Happy Organizing! 
-Christina Giaquinto
Tags
#betterlivingwithchristina
#modularclosetdiys
Cabinets
Christinascorner
Closet design
Closet drawers
Closet organization
Closet revolution
Diy
Garage
Garageproject
Home office
Home organization
How to get your closet organized
Kitchen
Laundryroom
Lifestyle
Memorial day weekend
Modualrclosets
Modularclosets
Mother's day
Newyears2021
Organization
Organization tips
Organizeme
Organizing tips
Pantry
Pantrygoals
Shelf dividers
Shoewall
Solid shelves
Spring cleaning
Sub-categorize
Summer
Summer organization
Valetrod