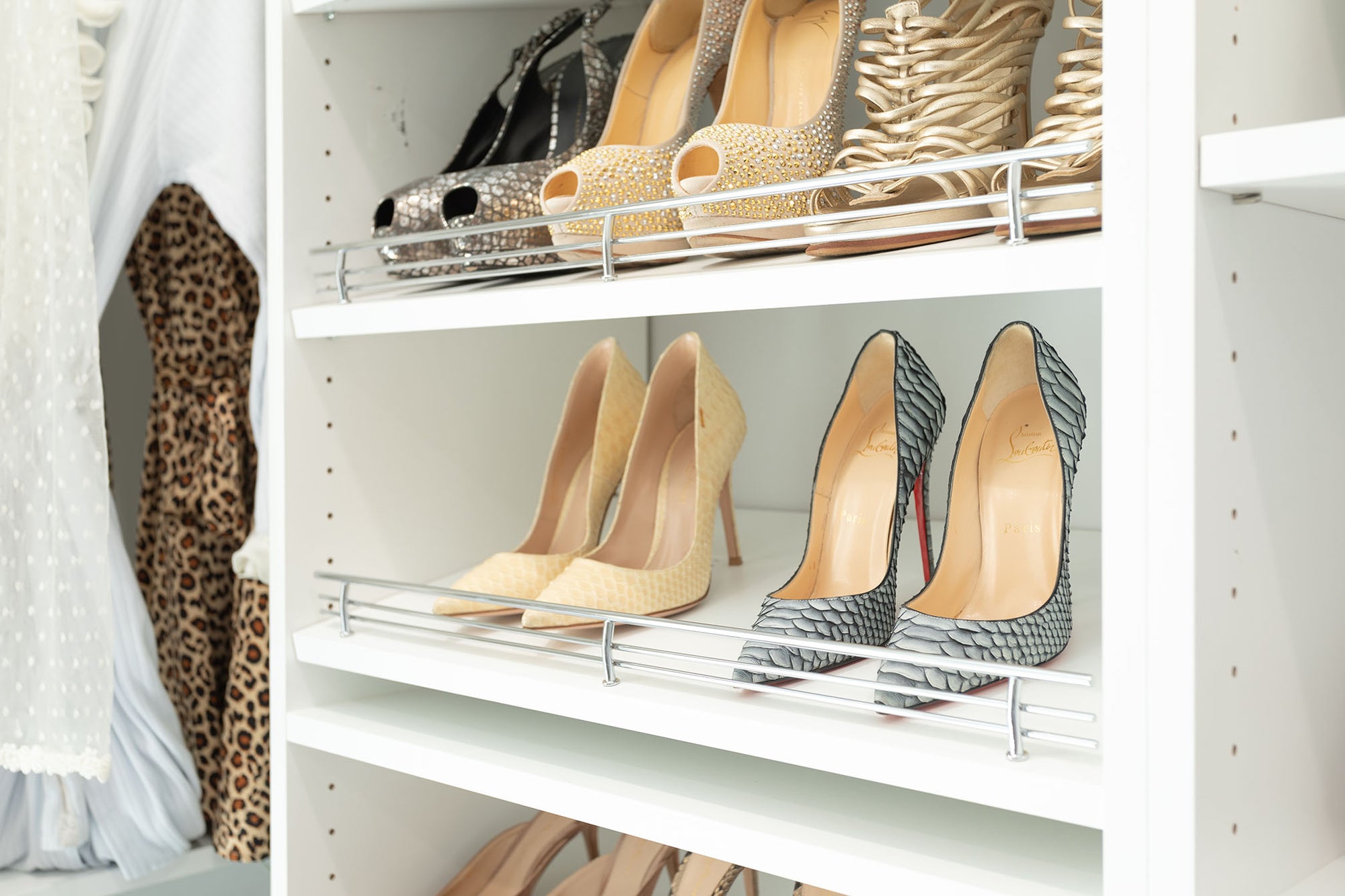 23 Shoe Organization Ideas For a Celebrity Closet Look
Published in 11.29.2021
Keeping your shoes organized is one of the most difficult challenges of maintaining a clean closet space. You may start out storing your shoe collection in an orderly fashion, but without the proper setup, you end up with a mountain of shoes on your closet floor. I mean, your shoes may look awesome, but you've got to get them organized.
We've got the solutions you need. Read on to learn the most efficient and stylish shoe organization ideas to capture that celebrity closet look! With innovative and practical tips, storing your shoes will seem more attainable than ever.

23 Shoe Organization Ideas For a Celebrity Closet Look
Here in our highly comprehensive guide, we'll go through some of the best shoe organization ideas you can try. Let's find out about each one real quick! 
1. Over-the-Door Pocket Shoe Organizer

Getting your shoes organized in a sophisticated manner has always been challenging to manage for many. On top of that, houses with large family members mean more shoes and more dust and dirt. If you don't want your house to be messy and filled with smut, getting the ultra-convenient pocket organizer on the door would offer tremendous assistance. 

This has to be one of the best shoe storage organizing tips ever. The pocket organizers are trendy these days, which can easily be hung on the back of any door. Soft and squishy, these pocket organizers are easy to clean and move!  


Source URL: amazon.com/Unjumbly-Organizer-Pocket-Complete-Strong/dp/B01ANEI1G2
2. DIY A Climbing Wall Shoe Organizer 

Apart from the convenience, there is something else that you should consider--DIY shelves. This unique, aesthetic wall shoe organizer will transform the look of your bedroom.

Climbing Wall shoe organizers may not provide the most shoe carrying capabilities, but they'd surely give a stunning look. They will certainly make it easy for you to grab a pair before heading out quickly. 


Source URL: https://www.goodhousekeeping.com/home/cleaning/tips/g1343/shoe-organizing-ideas/
3. Add a Stylish Tilt Out Shoe Storage Cabinet 
The Tilt-out shoe cabinet keeps things tidy inside the house. It's one of the shoe storage ideas for small spaces that you can use. Like any cabinets, the lids can be closed once shoes are in, storing the shoes neatly while saving some room inside the house. 


One of the pros about these unique items is that you get to keep the shoes inside of them, without a trace of dirt around, making them unbelievably cleaner and stylish. 
Add these beautiful,
sleek storage cabinets
to your room for a premium look and add tons of shoe storage space!  
Source URL:
https://www.pinterest.com/pin/532972937127042393/
4. Bring in the PVC Pipes - Shoe Storage Ideas DIY

This is yet another recycling idea. With each passing day, the climate is heating up, requiring us to adapt to the changes. And one of the main reasons the environmental collapse is occurring is because we're failing to recycle or up-cycle our wastes. 

In this case, unused PVC pipes can be turned into an attractive and highly effective shoe storage solution. Your guests will also love the idea and may try one of these sustainable methods in their homes as well. 

Source URL: https://www.pinterest.com/pin/275423333448371544/
5. Bring in Wall Shoe Racks 


If you're using the space on the floor and wasting the room for walking and living areas, why spare the walls. Getting the shoes properly managed would require a substantial amount of space in the house. 


And to make room for them with any appliances may eat up a portion of space in the place, and the issue gets complicated if you're living in a tiny apartment. 


In this case, walled shoe racks can undoubtedly play a role. They can easily be integrated into the walls, utilizing the unused wall space and freeing up the house to a certain extent. 


Wall shoe racks are an exciting way to minimize space wastage while getting the shoes lined up in an orderly manner. 
Source URL: https: //www.pinterest.com/pin/294704369352176348/ 
6. Employ Under the Bed Shoe Organizers


If you're out of options regarding getting the shoes managed in the most sophisticated manner, then here comes the under-the-bed shoe organizers. With tremendously advanced arrangement techniques, these organizers are a blessing for a house that lacks sufficient room. 


Under the bed shoe organizers are one of the most common shoe arrangement methods right now. They'd get the shoes out of sight while utilizing the often unused, under the bed surfaces and offering a unique space minimizing technique. 


As a result, you can free up enough room inside the house to walk and work freely. On top of that, it'd also help the children and pets roam around in the house without messing up the shoes. 
Source URL: https: //footwearnews.com/2019/shop/shoes/best-underbed-storage-unit-ideas-1202759792/
7. The Regular Wooden Boxed Shoe Racks 


You can also use the regular boxed shape white-colored wooden shoe rack. It's nothing fancy. But it will do the job of storing all your pair shoe collection in a packed manner to free up room in the house. 


If getting the premium regular wooden shoe racks are your prime objective, then getting this professional-grade shoe rack can certainly serve your purpose! 
Source URL: https: //www.containerstore.com/s/closet/shoe-storage/12-pair-shoe-organizer/12d?productId=10008147&theme=wooden%20shoe%20racks&pos=4
8. Mesh Sling Rack - Shoe Storage Ideas



You are never out of options if you wish to get the most stylish shoe storing elements in the house. It's not only about getting the shoes in order, but one of the main reasons you bring in a quality shoe rack has a lot to do with the type of view it provides. 


If you want to give your shoe racks a slight touch of elegance and effectiveness, both at the same time, then using one of these can indeed work. The steel metal frame has mesh pockets, offering a minimalistic look while getting the job done with ease! 
Source URL: https://www.designisthis.com/us/shoe-sling-stacking-shoe-rack-organizer-umbra
9. Bamboo Shoe Shelf 



Shoe shelves can be constructed using many materials, but the bamboo gives the shoe racks a whole new dimension. With a sleek and glossy appearance, the bamboo shoe shelves can brighten up your entrance with much difficulty! 


On top of that, bamboo is a pretty durable material as well, offering a tremendously sturdy setup and a lasting user experience that you'd continue to cherish as time goes on. 
Source URL: https://www.amazon.com/Oceanstar-SR1231-3-Tier-Bamboo-Shoe/dp/B0073NIBW6
10. Bring in the Shoe Storage Benches 


Shoe storage benches are one of the most convenient shoe carriers you can get. They can be the perfect shoe storage ideas for small entryways and easy shoe keeping and wearing. 


Besides top-of-the-world convenience, shoe storage benches also offer a premium display and lighten up the room's setting. 

Source URL: https://www.sheknows.com/living/articles/2152778/best-storage-benches-amazon/
11. Use Linen Shoe Storage


Linen shoe storage solutions are slowly picking up the trend. Usually, they come in box-shaped cubes. Often, there are plastic opening areas that let you access the pairs of shoes easily. They're pretty but may not offer the required space to get all the shoes stored in a small area. 


These beautiful pieces are chiefly used for storing shoes for a long time. There are some shoes that you won't wear every day and keep away for particular purposes. These lined storage boxes can work as the ideal carriers if you want to store your shoes for an extended period. 
Source URL: https://www.containerstore.com/s/closet/storage-boxes-bins/linen-cambridge-drop_front-shoe-box/12d?productId=10029670&bvstate=pg:2/ct:r
12. Get the Extendable Shoe Rack



If limited space is your problem, then there are no ways other than being smart. One of those intelligent options involves extendable shoe racks. These intelligently designed racks can be expanded to a specific width if required, giving you a ton of shoe-carrying capabilities. 


On the other hand, when people are out, you can shorten it up as required. 


You can also use the space below the hanging clothes in a closet to store shoes. Getting one of these closet shoe racks can add a subtle touch of elegance to the living room. 
Source URL: https://www.walmart.com/ip/Whitmor-3-Tier-Expandable-Shoe-Rack-Stackable-Natural-Wood-Chrome-7-x-25-x-18/16934275
13. Steel Mesh Rack On the Door 

Door shoe organizers are highly effective. Like the pocket organizers, steel mesh racks can perform equally well, if not better. These quality steel mesh door organizers can be used on almost any door, offering a pretty standard shoe storing capability while not compromising the looks.


As you're installing them on the back of the doors, they'd also work as a highly effective shoe room minimizer appliance. Because, after using such an intelligent mechanism, you won't have to keep a thing on the floor. 


Furthermore, the backside of the door remains unexposed most of the time, which won't restrict the walking room either, making it an unbelievably effective shoe storage solution!  
Source URL: https://www.amazon.com/FKUO-10-Tier-Organizer-Customized-Accessory/dp/B07X1MWPYF
14. Suspending Shoe Organizer 



Here is a shoe organizer for the closet that can be hung from above and is a type of organizer that is trending nowadays. Coming with light fabric construction, you can get this beautiful hanging shoe inside your closet. 


This intelligent item can add tremendous value if you lack floor space and have substantial rooms in the hanger area!
With a lightweight construction and easy-to-manage build, these hanging shoe organizers won't perform more excellently than the regular shoe cabinets. 


Except for the fact that they may tend to shake up a bit while hanging. But keeping it aside, this should be a quality shoe organizer to go for any time! 
Source URL: https://www.walmart.com/ip/Whitmor-Hanging-Shoe-Shelves-Closet-Organizer-8-Section-Grey-11-5-x-5-5-x-41/44782628
15. Boot Hangers Can be an Option 


If you're living in colder regions, boots would be the norm. And unlike the regular shoes, they have a pretty long construction. That's why boot hangers can do a good job in this case. Hang the boots with ease, and stop thinking about how to fit them in your short and small shoe racks. 


Boot hangers also offer convenience as they won't usually fit inside the regular shoe cabinets or shelves, thanks to their unnaturally long construction. In this case, the boot hangers would work exceptionally well in getting the boots arranged in the most organized manner possible. 
Source URL: https://www.amazon.com/Boot-Organizer-Garment-Closets-Hangers/dp/B00KH9POBY
16. Aesthetic Rotating Shoe Racks 


If storing the shoe isn't your only goal, and having an elegant show-off is on the list, adding one of this premium, highly aesthetic rotating shoe racks can be a plausible option. 
They store the shoes pretty well while transforming the environment as well! 


When the premium class shoe racks are what you want, check out the unbelievably sophisticated piece that houses both drawers and shelves for intelligent shoe storage. 


Source URL: https://www.custommade.com/spinning-shoe-rack/by/creativedesignsdecor/
17. Hidden Under the Bench



If you want to keep the shoes out of sight, there's no better option than the secret shoe benches. This is one of those shoe storage ideas for an entryway that would conceal shoes out of sight. 


This entryway seat can provide a stunning shoe carrying capability in its internal compartment. The boots can be tucked inside while not in use, while nobody knows whether shoes are stored under the bench. 
Source URL: https://www.footwearstorage.com/blog/shoe-storage-bench/
18. Magazine Holder for Flip Flops 

You know things are getting more and more intense as we're edging closer to the end. This time the magazine holders are our bet. 


They'd make stunning flip-flop organizers without any issues. Being colorful and sturdy, you shouldn't worry about these bad boys getting broken or something like that. Flip flops, too, are squishy and would fit inside the holders pretty well. 


Another positive of these incredible items is that they're unbelievably lightweight. You can easily lift them and switch to desired locations by being tremendously light carriers, which isn't possible with the regular shoe shelves. 
Source URL: https://www.organizationobsessed.com/30-brilliant-ways-organize-magazine-holders/
19. Use Slim Free Standing Shoe Organizer 


Thin steel freestanding shoe organizers can prove to be vital regular shoe arranging elements in the house. Their ample space holds tons of shoes while not wasting too much space either. Being a freestanding rack, the air will flow through and won't develop any smell either!


You can also add professionally crafted long wooden shoe storage towers. With stunning looks and sturdy wood construction, the eight shelves shoe tower is for large households with an overwhelming number of shoes to manage. 
Source URL: https://www.pinterest.com/pin/practical-shoes-rack-design-ideas-for-small-homes--553239135471005275/
20. Plastic Shoe Drawers 



Light and transparent plastic shoe drawers are amazing shoe organizers. You can see each one of them while they're inside, thus making it easy to get the desired one out fast. They're also pretty easy to clean and offer a beautiful appearance, making them a desirable pick on the whole!


Further, being light, they're easy to move. You can quickly move it while cleaning and place it back to its original location without much difficulty. 
Source URL: https://www.pinterest.com/pin/587367976401170136/
21. Unique Z-Shaped Shoe Organizers 



The Z-Shaped organizers aren't uncommon. With unique design and sophisticated, modern style, they'd fit the standard households pretty well. You can get the taller ones and add one or two books and plants on the top side to make things look a lot more interesting! 


So, if you're looking for something fancy with a modern design that fits your premium interior, then getting one of these sleek shoe organizers should work remarkably well. 
Source URL: https://www.amazon.com/HUOLEO-Organizer-Non-Woven-Multi-Layer-Room-Light/dp/B07WMNY3PB
22. Wooden Boot Storage Racks 


A wood boot stick storage system would be one handy shoe organizing material for those who wear boots a lot. The easy-to-use racks would manage the shoes pretty quickly, and you won't have to tire your hands out getting the large boots fitted inside the regular shoe racks. 


Being made using sturdy wooden construction, these boot storage racks should also offer a longer-lasting service and a slower wear duration. 
Source URL: https://www.mygift.com/products/graywashed-boot-rack
23. Staircase Shoe Store All age System 



Getting the space out is a new challenge. As the housing price increases, fitting all the household appliances in a tiny room has become a challenge that many have to deal with nowadays. 


One of the smartest methods of minimizing the wastage of rooms is using areas and appliances for multiple purposes. Staircase, for instance, is usually used for moving, going up or down in the house. But using them as show storage areas can serve both purposes without wasting any rooms. 


A staircase shoe storage space system is one of the most brilliant ideas that you can try today. This involves using the front part of the stairs as shoe storage boxes, resulting in a never-ending supply of shoe storage rooms. If you convert all the staircases into shoe storage, you can get all the shoes in the house stored with ease, saving loads of space. 


Still, if getting the shoes all on board is something you struggle with, then bring this eight-shelves shoe organizer for an unbelievably large shoe organization. 
Source URL: https://ashleywinndesign.com/shoe-rack-ideas/

FAQs

How do you organize shoes in a small space?

hat depends on various elements. There are plenty of shoe organizers right now in the market, and there are many tricks you can apply. Organizing shoes in a small compartment placing them against each other can conserve space.

Using pocket organizers or under-the-bed shoe organizers can also minimize the space being used while storing shoes. 


What is the best way to organize your shoes?

One of the best ways to organize your shoes is the shoe storage bench. They can be used as sitting support while wearing shoes and can store shoes at the same time.

These benches can be of two types; one comes with open shoe storage where everyone knows it's a shoe storage bench. Other ones come with 


How can I hide my shoe storage?

It depends on the type of shoe concealment techniques you're willing to use. Using under the bed or staircase shoe storage mechanisms can easily let you hide the shoes while storing many shoes. 


On top of that, using shoe cabinets can also conceal the shoes. Another smart way to hide the shoe storage is by using shoe benches with drawers. 


How should I organize my shoes in my room?

As they would release dirt and dust, it's best not keep your shoes on the floor. You can use a lidded plastic basket or box or organizers to store them without a mess. You can also save the boots under the hanging dresses, utilizing the space underneath.  


Is it better to keep shoes in boxes or out?

Based on the frequency of use, the answer can vary. For shoes that are regularly used, it's better to keep them open, on the shelves, because you'd use them frequently, and getting it out of the box every time would surely not be the wisest of actions.


But if you have shoes which you rarely wear. We're talking about shoes used on special occasions; it's better to keep them inside boxes. 


Why are my shoes dry rotting in my closet?

One of the main reasons behind rotting is mold and fungal development. It's mandatory to keep the closet in warm, sunny areas. And before you store shoes, make sure they're clean and dry. Remove the mold development from the cabinet to stop it from happening. 


How long do shoes last if not worn?

The lastingness of shoes chiefly depends on the user, his way of handling it, his weight, and the shoe's terrain. The shoes are expected to last a lot less than regular city terrains in rough, rugged terrain. Usually, shoes should be replaced once a year. But if you don't wear them much, they can be used further. 


What happens to shoes if you don't wear them?

Many think that not wearing shoes will reduce the wear. But that's not true. Shoes can still wear down, the leather may gradually dry out, and the rubber may slowly become brittle. Yet, this wear would be a bit less than the wearing due to heavy usage in rough terrains. 


How do you prevent moisture in shoes?

Anti-moisture socks can prevent the development of irritating moisture. Plus, using foot powder can soak up the moisture contents from the feet. Moreover, you should also give your feet a breathing space. Having a small room inside so you can wiggle your toe should reduce moisture growth. Finally, wearing light and highly breathable shoes can prevent moisture in shoes. 


How do I keep my shoes from getting mold in my closet?

Sundry each shoe before getting inside the closet space. Sun offers UV rays, which is a natural killer of any potential mold. That's why you'd find the areas that never get exposed to the sun developing molds. 


Hence, keep the closet in a sunny area. Proper airflow too can reduce the potentiality of mold growing. To ensure that adequate airflow is maintained. Finally, use antifungal agents like silica gel to keep the molds at bay. 


Final Thoughts 

Well, in our tremendously comprehensive discussion, we tried to present you with some of the most effective shoe organizer ideas. The 23 ideas presented in the guide would indeed transform the way you used to store shoes. '


These insanely attractive shoe storage options can work as a quality space waste minimization technique and offer stylish outlooks. 


As times pass, people are becoming more and more fashion-conscious, emphasizing how the house should be decorated. On the other hand, the value of space increases, which requires finding out intelligent ways of storing goods. 


And these intelligent techniques offer the best solution for both. So, apply the 23 Shoe Organizer Ideas For a Celebrity Closet Look and witness how the house is transformed. 








Tags
#modularclosetdiys
Closet design
Closet drawer unit
Closet drawers
Closet organization
Closet revolution
Clutter zones
Design theory
Diy
Double hanging
Entrepreneur
Fen shui
Frank loyd wright
Frills and drills
Home organization
Home tour
How to design your closet
How to get your closet organized
How to measure your closet
Imby
In the news
Kids bedroom closet
Kids closet
Kids closet desk
Lindsay dean
Mariekondo
Measuring guide
Minimalism
Minimalist architecture
Modular
Modular closet diys
Modular closets diys
Modular magic makeovers
Modular super tips
New
Organization
Organization tips
Organizing tips
Pallet wood
Pantry
Pantrygoals
Part 1
Part 2
Press
Project 333
Psychology
Reading nook
Shoe shelves
Slanted ceiling
Spring cleaning
Spring cleaning 2017
Spring cleaning checklist
The essential closet makeover
Wall panel
Wallpaper
Why people hate wire shelves
Wire you here
Zen
Zen bhuddism