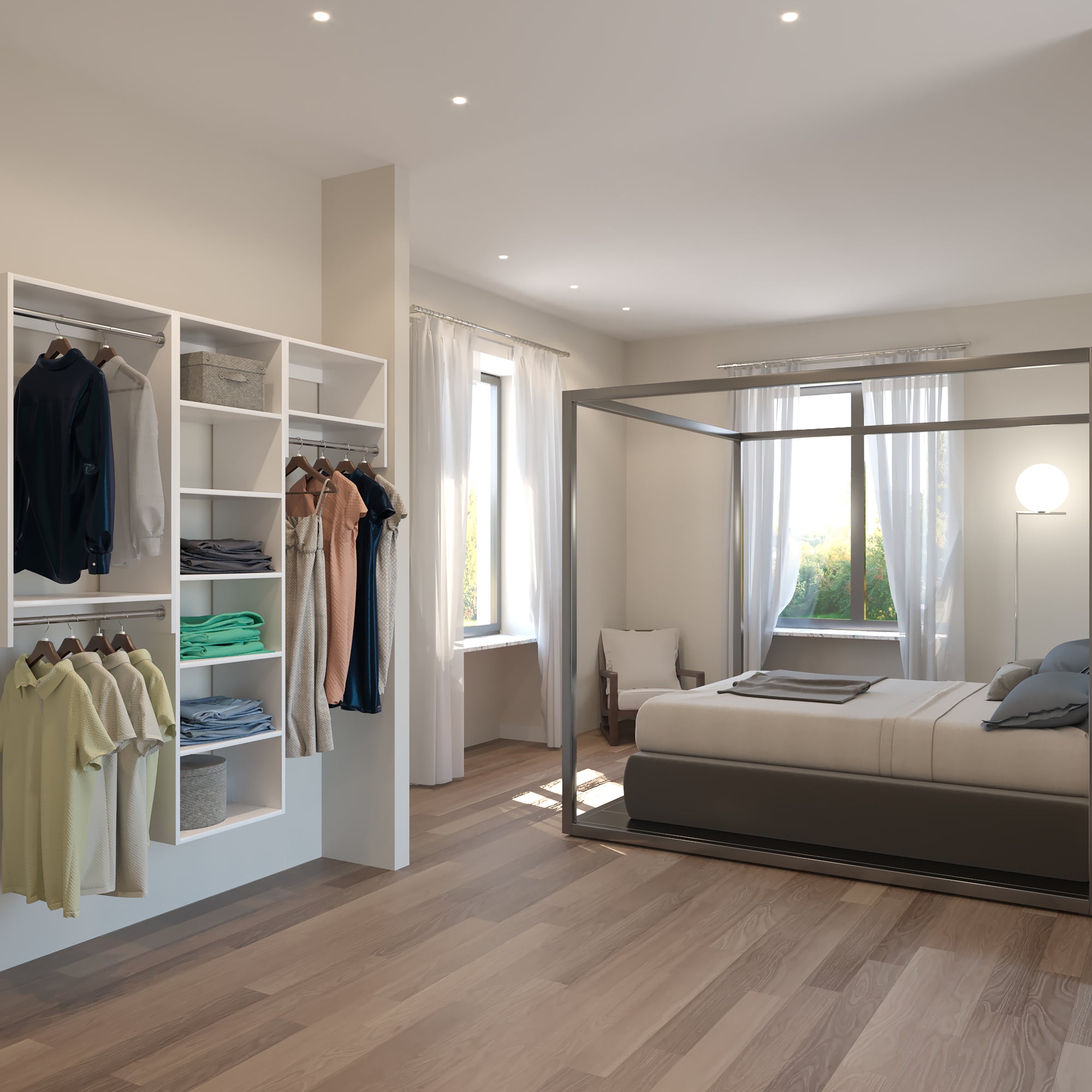 A Step-by-Step Guide to an Organized Kitchen 
Published in 2.10.2020
Do you need a better kitchen organization system?
Maybe you find you're buying too much at the grocery store, because items get lost in the back of your cabinets until well past their expiration dates. Or maybe cooking is sometimes a stressful nightmare, because midway through preparing you realize you can't find that one necessary ingredient that you're sure you have…. somewhere. It can be frustrating!
Luckily, when you have a custom designed storage plan for your kitchen, you can make sure it's easy to access what you want, when you want it. 
And, with Modular Closets signature modular approach to custom closet design, you don't have to break the bank to get the extra shelves and drawers you need to create your perfect kitchen.
Here's a step-by-step guide so you can turn your dream of a beautifully organized kitchen into a reality: 
1. Take Inventory & Sort
The first step to creating a truly functional storage design for your kitchen is to take inventory of everything you have and want to store.
Typically, you want to start to sort everything into groups based on what you have and how frequently you use each kind of item.
For example, if you like to drink a glass of wine every evening, you want to organize and keep your everyday wine collection close at hand. Maybe you need a convenient way to store placemats and table linens? Maybe you want added shelves behind doors for cereals, canned goods, and other everyday food items? Maybe you need extra storage for kitchen appliances?
Now is also the time to streamline what you store in the kitchen. Get rid of expired food, spices you don't use, and appliances that are just collecting dust. You may even be able to sell or donate gently used appliances. 
2. Make Sure to Maximize Available Space
If your kitchen feels "too small," it's probably because you haven't made full use of the space you have. You'll be surprised how much you can store when you use the full length of a wall with the rights combination of drawers and shelves for what you have.
For example, using baskets on open shelves can be a great way to organize different kinds of food products. Or try using drawers with dividers to store kitchen gadgets, utensils, and other small accessories. 
3. Utilize Your Walls!
One of the best ways to make use of available space in and near your kitchen is to add shelving to otherwise unused walls.
Rather than just displaying a few photographs or pieces of art, add some custom shelves to walls in and around your kitchen to create more storage opportunities. Many homeowners find that with the extra storage potential, they can not only improve their organization, but also create a space for aesthetic displays! 
If you're ready to start exploring how you can transform your kitchen with extra shelves and drawers, our team here at Modular Closets will be happy to help.
The first step to creating customized kitchen storage is the design. Here at Modular Closets, we offer a FREE design – just check out this deal on our website!
Tags
#modularclosetdiys
Closet design
Closet drawer unit
Closet drawers
Closet organization
Closet revolution
Clutter zones
Design theory
Diy
Double hanging
Entrepreneur
Fen shui
Frank loyd wright
Frills and drills
Home organization
Home tour
How to design your closet
How to get your closet organized
How to measure your closet
Imby
In the news
Kids bedroom closet
Kids closet
Kids closet desk
Lindsay dean
Mariekondo
Measuring guide
Minimalism
Minimalist architecture
Modular
Modular closet diys
Modular closets diys
Modular magic makeovers
Modular super tips
New
Organization
Organization tips
Organizing tips
Pallet wood
Pantry
Pantrygoals
Part 1
Part 2
Press
Project 333
Psychology
Reading nook
Shoe shelves
Slanted ceiling
Spring cleaning
Spring cleaning 2017
Spring cleaning checklist
The essential closet makeover
Wall panel
Wallpaper
Why people hate wire shelves
Wire you here
Zen
Zen bhuddism