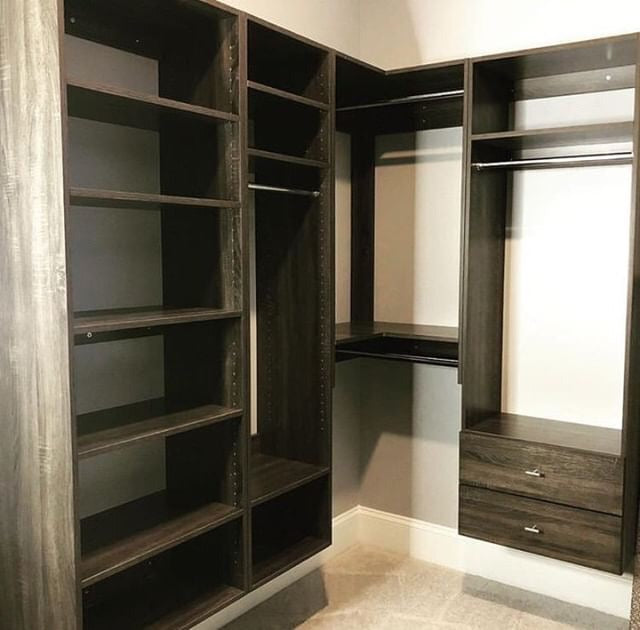 Create a Beautiful New Master Closet for Spring
Published in 4.15.2019
Spring is here – along with spring cleaning, it's the perfect time of year to give your master bedroom a fresh new look! One area of your bedroom to pay special attention to is your master closet. By bringing new life to your master closet, you can reap many home organization benefits.

Here at Modular Closets, we love helping homeowners like you become better at home organization by offering custom closet solutions. A new closet system may be just what you need to finally clear through the clutter and create a master bedroom that is stunning and complete.

If you'd like to create a beautiful new master closet this Spring, here are 3 questions to ask:
1. Can you make your closet bigger?
Is 2019 the year you finally do some home renovation? For many families, adding space to the master bedroom is the key to creating a home that feels like a luxurious retreat. Maybe now is the perfect time to finally create the space for that walk-in closet you've always been dreaming of.

The perfect master suite isn't complete until you have the perfect closet. Imagine opening the door to a wide-open space that displays your wardrobe with the artistry and flair of your favorite fashion icon.

The truth is, even if you only have room for your existing reach-in closet, there may still be ways to extend back a wall and give you slightly extra space. Oftentimes, adding a smartly designed closet system of shelves, drawers, and hanging rods can even help make a cramped reach-in closet space feel bigger.
2. What is your color palette?
If you will be re-doing your closet for Spring, now is the perfect time to consider your color choices and embrace a new palette for a vibrant sense of renewal.

Generally speaking, a light wash in white or off-white will make your closet feel spacious and provide a beautiful neutral background to display your wardrobe. You may even want to add some white-washed cedar planks to add texture and visual interest.

If you want to show off your personality even more, consider adding some color to your closet. You can create a contrast to the rest of your master suite by choosing a complementary color from the same overall palette – though it's still a good idea to choose a lighter, more neutral shade, because you want your wardrobe to stand out, not the closet itself.
3. How will you curate your dream wardrobe?
Once you have the perfect closet, it's time to consider the wardrobe you will display inside of it.

It's a good idea to begin by streamlining the contents of your current closet. Now is the time to ask about each article of clothing you own: Do I wear this? Do I love this? Does it add joy to my life? Will I be happy to see it displayed in my dream closet?

You may even want to buy a few new special pieces to show-off inside your renovated closet as a symbol of this new start!

When you're ready to renovate your master closet, our team here at Modular Closets will be delighted to get you set-up with the perfect closet system for your space and lifestyle preferences. Our modular approach to the custom closet allows us to offer gorgeous quality plywood at affordable prices.

If you're ready to start exploring the possibilities for your new closet, we'd love to help by offering you a free closet design. Just fill out the form!


Tags
#modularclosetdiys
Closet design
Closet drawer unit
Closet drawers
Closet organization
Closet revolution
Clutter zones
Design theory
Diy
Double hanging
Entrepreneur
Fen shui
Frank loyd wright
Frills and drills
Home organization
Home tour
How to design your closet
How to get your closet organized
How to measure your closet
Imby
In the news
Kids bedroom closet
Kids closet
Kids closet desk
Lindsay dean
Mariekondo
Measuring guide
Minimalism
Minimalist architecture
Modular
Modular closet diys
Modular closets diys
Modular magic makeovers
Modular super tips
New
Organization
Organization tips
Organizing tips
Pallet wood
Pantry
Pantrygoals
Part 1
Part 2
Press
Project 333
Psychology
Reading nook
Shoe shelves
Slanted ceiling
Spring cleaning
Spring cleaning 2017
Spring cleaning checklist
The essential closet makeover
Wall panel
Wallpaper
Why people hate wire shelves
Wire you here
Zen
Zen bhuddism