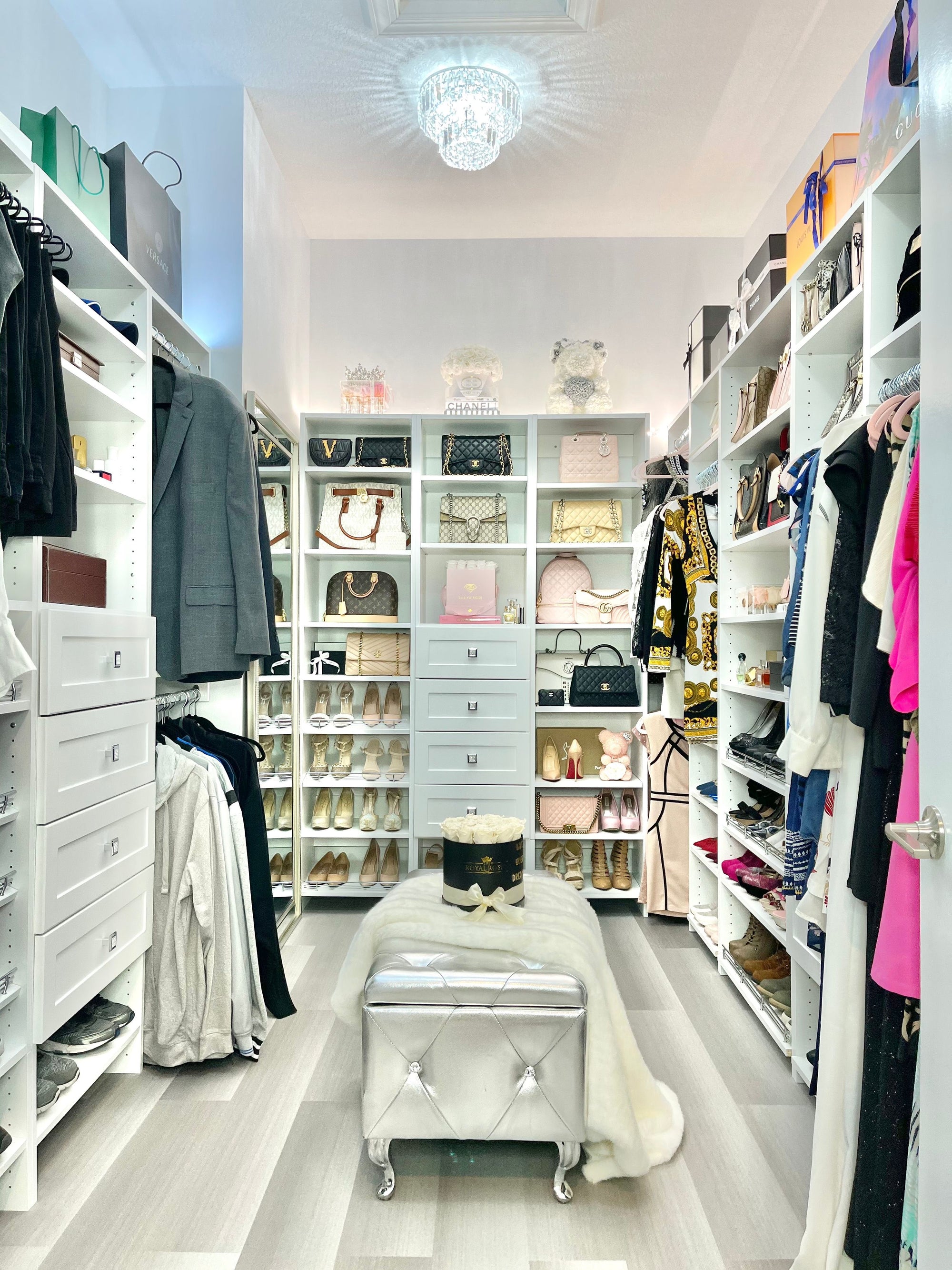 13 Innovative Walk-In Closet Ideas for Your Next Remodel
Published in 9.1.2021
Check out these 13 ideas and more to ensure that your walk-in closet remodel is absolutely
amazing
. 
Are you finally building your dream walk-in closet? Or, is your house overrun with excess clothes, where the only option is to resort to storing clothes in the guest bedroom?

A closet can be so much more than just a utilitarian area to store your clothes, shoes, and accessories. If you're going to redo your closet, upgrade it and get the maximum benefits out of the space. These walk-in closet ideas are so spectacular that you are sure to find inspiration. So much so, that  once you finish your closet, you may never want to get dressed and leave.

Walk-In Closet Ideas
The ideal closet system is the one that fits your lifestyle and personal storage needs. You'll be using your closet every day, so let it reflect your style and taste.

However, if you design your closet smartly to maximize the space, it will be easy to maintain and organize. Here are some
innovative
 ideas you can explore for inspiration in your walk-in closet design to make it truly spectacular.  
1. Lighting 
Good lighting is vital  in your closet to make sure you're not pairing the black slacks with the navy jacket. But your lighting can also make a statement. Hang a sparkling chandelier to give it an air of sophistication and class.
2. Color and Theme
Set the ambiance of the closet with the style of cabinets and color scheme. Do you want a clean, modern look with white furniture, or a stronger vibe with dark wood and chrome furnishings? Or, you may opt  for a minimalist design. 
3. Flooring
Don't overlook the floor when designing your closet. You can use the same flooring as the bedroom or bathroom to continue the design flow, or change it up with a different material that complements the flooring in the other rooms. Wood, tiles, or thick wall-to-wall carpet are excellent options. 
4. Mirror 
A mirror is a dressing necessity, but go one step further and mirror a whole wall or line the back of the closets and shelving units with mirrors for a striking effect. For an eye-catching design, install mirrors on the ceiling.  If your closet is monochromatic or uses dark furniture, the mirrors will provide contrast and brighten up the room.
5. Flowers
Nothing brightens up the room like a vase of fresh, fragrant flowers. But you don't have to commit to fresh buds each day. Even faux blooms will beautify the space and make you feel like a guest in your own room.
6. Peninsulas and Islands
Is your closet spacious and wide? If you have the room, an island is a brilliant addition to your closet. 
Use the surface for folding and preparing your clothes, and install extra cabinets and drawers underneath. An island is a perfect spot to place jewelry pull-outs and drawers to store accessories such as glasses, cuff links, and watches.
1.
Seating
Are you losing your balance putting  on your socks? Sitting on the floor to tie your shoes? Bring a seat into your closet if you're using the closet as a dressing room. 
It can be as basic as a simple chair to as luxurious as a plush chaise or a sofa if you have the room. If you have a window in your closet, placing a bench right under it will create the perfect window seat.
2.
Spotlights
Use spotlights to highlight special areas in the closet. If you have a shelf of designer bags or collectibles, display them and shower them with attention via spotlights. You can also put up LED lights over your shoe rack or in the interior of the hanging wardrobe to give the closet the feel of understated elegance.
3.
Closet in a Closet
For a streamlined design, hide all of the shelves and rods behind closed doors to form cabinets and wardrobes. You will need to open an interior door to reach your clothes, but the chic, modern look might be worth it. It may also be easier to organize. You can use glass or wood doors for a stylish design. 
4.
Laundry Room
 A washing machine in the master bedroom walk-in closet? If you have a large walk-in closet with extra space, consider putting your washer and dryer in there for easy and convenient laundry. No more hauling baskets up and down the stairs to another floor! 
5.
Vanity Table 
Do you put on your contact lenses, blow your hair, and apply makeup while leaning over the bathroom counter? A small vanity table and chair are a charming - and functional  - addition to your closet. Hang a mirror in front of the table and dedicate a drawer for cosmetics and tools.
6.
Coffee Station
Is your closet the first thing you turn to after rolling out of bed? Consider installing a small countertop and cabinet for your coffee machine. Or mini-fridge. Or both! (Make sure there's an outlet to plug in the appliances).
7.
Security
Are you keeping expensive jewelry or designer items in your walk-in closet? Consider installing a lock or alarm on the closet or one of the cabinets. At the very least, it will stop your best friend from always borrowing them.
Ideas for Small Walk-In Closets
Your walk-in closet doesn't need to be big to be functional and beautiful. These small walk-in closet ideas will help you get the most out of your small closet:
1. Use a white color scheme in the closet to brighten the room  and make the area feel more spacious. Install mirrors to reflect the light and visually enlarge the space.
2. Install custom or semi-custom floor-to-ceiling storage units to get the most out of the space. Store out-of-season gear on the upper shelves.
3. Install an efficient closet system that incorporates both long and short  hanging rods, with pull out drawers and shelves. 
4. Use drawer organizers and baskets to fit more into each drawer and maximize the space.
5. Use slim hangers rather than bulky hangers to fit more in the wardrobe. 
6. Consider glass doors for the wardrobe and cabinets to visually brighten the closet.
7. Line the closet or the interior of the cabinets and shelving units with wallpaper for a pop of color, style, and visual interest. You can also use colorful baskets on the shelves.
How to Build a Walk-In Closet
Are you ready to build the custom walk-in closet of your dreams? You can create a DIY walk-in closet by installing modular closet pieces.
The first step is to measure the closet to determine how much space you have to work with. Measure each wall, taking into account any windows and doorways, and the ceiling height too. If you're installing floor-to-ceiling units, the upper cabinets are perfect for storing off-season items. 
Once you have the measurements, decide on the layout and the closet design. The size of the closet may determine whether you can have four walls of storage units or only one. Is the closet wide enough to accommodate furniture on both sides? What kind of walk-in closet systems can it fit?
Take stock of the contents that will go into the closet. Determine how much storage space you will need. Do you hang or fold your shirts? You may need more hanging space or shelving accordingly.
You can also put in a wardrobe and a cabinet or two if there are particular things you want to hide from view. Just remember that these often use more space than modular units.  
Storage Options
Your custom walk-in closet design should consist of different types of storage options for the various categories of clothing:
Hanging rods - You'll need one or more

hanging rods

for suits, blazers, dresses, skirts, and pants. You can maximize space by

stacking hanging rods

. For example, use the upper rod for blazers and shirts and the bottom rod for skirts and pants. 
Make sure to have a taller rod in the closet system if you have longer hanging items like ankle-length dresses or gowns so they won't sweep the floor.
Shelves - Use

shelves

to store items that you want to be displayed or need to have quick access to. I like keeping boxed shirts, sweatshirts, hats, and bags on closet shelves. 
You might also use the shelves to display collectibles or small items. You can keep the shelves neat by storing the items in coordinating storage baskets on the shelves.
Drawers -

Drawers

are perfect for storing items that you may not want on display or don't store as neatly. It's common to keep socks, undergarments, and small accessories in drawers. I recommend using drawer dividers or boxes in the drawers to keep the contents neat. 
A shelf-drawer combination unit is the most versatile, with plenty of storage room for clothing on shelves and in drawers.  
Shoe storage - Don't forget to plan for your shoes. A

shoe tower

is the most organized and orderly way to store your shoe collection - not on the closet floor.
How to Organize Your Walk-In Closet
How much time have you spent searching for a missing sweater? An organized closet  system will keep your  closet both neater and more efficient. Whip your closet into shape - and keep it that way - with these tips for walk-in closet organization:
Empty the closet.

Sort through the clothing, footwear, and accessories. 

Decide where you will store everything in the closet.

Put the contents back into the closet.
Empty the Closet
Take everything out of the closet. You can focus on one area of the closet at a time if you don't have the time to tackle it all in one session. Take this opportunity to clean out the cabinets in the closet and adjust any shelving heights if needed.
Sort the Contents
Go through each item from your closet and sort them into one of these three categories:
Keep - These are the items that you will use and are going back into the closet. If you have not worn the item in a year, consider whether it is worth keeping. Clothing you are saving for a future event or has sentimental value, such as maternity clothing or your wedding dress, can be stored in an out-of-the-way place in the closet or a separate storage closet. 
Give Away - Items that you no longer need but someone else could use should be given away. You can sell the things if they are valuable or donate them to a charity.
Discard - Throw out any items that aren't in a condition to pass down, such as worn-out shoes and ripped or stained clothing.
Decide where Everything will Go in the Closet
Take stock of the items you will put back into the closet and choose their new home. Every piece of clothing and accessory should have a designated spot. You should never find yourself needing or wanting to throw things on the floor. 
Will you be storing your shirts on a shelf or in a drawer? If you are using drawers, file-fold the items to quickly see them and easily pull out what you need. Use baskets for organized items on shelves.
To free up some room on the shelves and drawer space, install hooks, tie racks, and belt racks on the closet walls to hang up purses, ties, belts, and scarves. 
Put the Contents Away
Group similar items together. For example, hang all shirts together, then the pants, and group the blazers together. If you're up for it, you can sort the clothes by colors or season. 
Purchase matching hangers to give the closest a cohesive look. If you have a shoe tower to store your shoes, sort them by shoe type. Sort the dress shoes on one shelf, slippers on another, and athletic shoes on another shelf. Your shoe tower will look neat, and your shoes will be easy to find. 
The most important thing is to know where each item belongs, so you don't have to scramble Monday morning for your black power suit (unless you left it at the cleaners). Create an organization schedule and system to keep all the clothes in order. Consider designating one day on the weekend to clear up any clutter that accumulated during the week. This makes maintaining your space more manageable.
Want more ideas on how to organize your closet? Check out our great guide:
How To Organize Your Closet According To Modular Closets
FAQ
Renovating your walk-in closet can seem overwhelming. Some common questions you may have are: 
1.
How do you layout a walk-in closet? 
The layout and design of your custom walk-in closet should focus on functionality and efficiency. You want your closet to not only look beautiful, but to work for your lifestyle. You should have an organized layout so that you can quickly find the clothes you need, even on the most hectic mornings.
Before designing the closet, know how much space you have to work with. Get the exact measurements of the closet, including the height and the length of each wall and accommodating for the closet doorway and any windows.
Then, create a list of the different areas you will need in the closet and the optimal storage type for the items. Do you want shelves for shoes? Determine how many you have - or will have - and how much shelf space you will need. If you have long dresses, you will need a tall hanging rod.
Planning Tips
When planning the layout, keep the following tips in mind.
Keep similar items together. Designate an area for accessories, a space for purses, and separate bulky winter sweaters from your summer clothes.
The most often used items should be the most accessible. Store out-of-season or rarely used clothes and accessories on the harder-to-reach shelves or drawers, which will free up some room for the current season clothing.




2.
Do walk-in closets need ventilation?
While closets don't require ventilation, if you're building the closet now, I recommend installing a ventilation system, such as HVAC, a vent, or even a window. The ventilation will help prevent mold and mildew from growing, keep your clothes fresher, and help air out odors from your clothing and shoes.
Plus, if you're going to be getting dressed in the closet or spending time sorting and putting away the clothing, you will need the ventilation for your comfort. 
3.
Do walk-in closets need heat?
Whether you should add heating to your closet largely depends on your closet's environment. Are all the walls interior walls? If they are, your closet should be pretty insulated from the surrounding rooms. You can put in carpeting to give the closet some extra insulation and warmth. 
If your closet has an exterior wall, and even more so a window or under-insulated, it can get cold in there. If you're using the closet as a dressing room, you don't want to start your day shivering while getting dressed. You can install HVAC, or if you're putting in radiant floor heating in the bedroom, extend it to the walk-in closet. 
4.
Is 5 feet wide enough for a walk-in closet?
5 feet is the absolute minimum width for a walk-in closet; you can't go any narrower than that. The average shelf is 12 inches deep, 24 inches for both sides of the closet, and you'll need about 30 to 36 inches to walk through the room.
If you only have five feet of space to work with, you can still create a gorgeous and functional walk-in closet.
5.
How do you circulate air in a small closet?
Is your closet stuffy with stale air? If you don't have a window, the simplest solution is to bring in a fan and open the closet door to the bedroom to change up the air. For a more permanent solution, install a vent.
In Summary
Many people dream of a walk-in closet. An extra room to store their clothes, shoes, handbags, and accessories - a private boutique. Utilize the space wisely with well-designed closet systems to get the maximum benefit out of every inch, and keep it organized to make finding the clothes you need a breeze.
Look for inspiration and customize your walk-in closet with the colors, storage options, and additional design details for a dazzling space that will feel like your own personal boutique.
Tags
#modularclosetdiys
Closet design
Closet drawer unit
Closet drawers
Closet organization
Closet revolution
Clutter zones
Design theory
Diy
Double hanging
Entrepreneur
Fen shui
Frank loyd wright
Frills and drills
Home organization
Home tour
How to design your closet
How to get your closet organized
How to measure your closet
Imby
In the news
Kids bedroom closet
Kids closet
Kids closet desk
Lindsay dean
Mariekondo
Measuring guide
Minimalism
Minimalist architecture
Modular
Modular closet diys
Modular closets diys
Modular magic makeovers
Modular super tips
New
Organization
Organization tips
Organizing tips
Pallet wood
Pantry
Pantrygoals
Part 1
Part 2
Press
Project 333
Psychology
Reading nook
Shoe shelves
Slanted ceiling
Spring cleaning
Spring cleaning 2017
Spring cleaning checklist
The essential closet makeover
Wall panel
Wallpaper
Why people hate wire shelves
Wire you here
Zen
Zen bhuddism