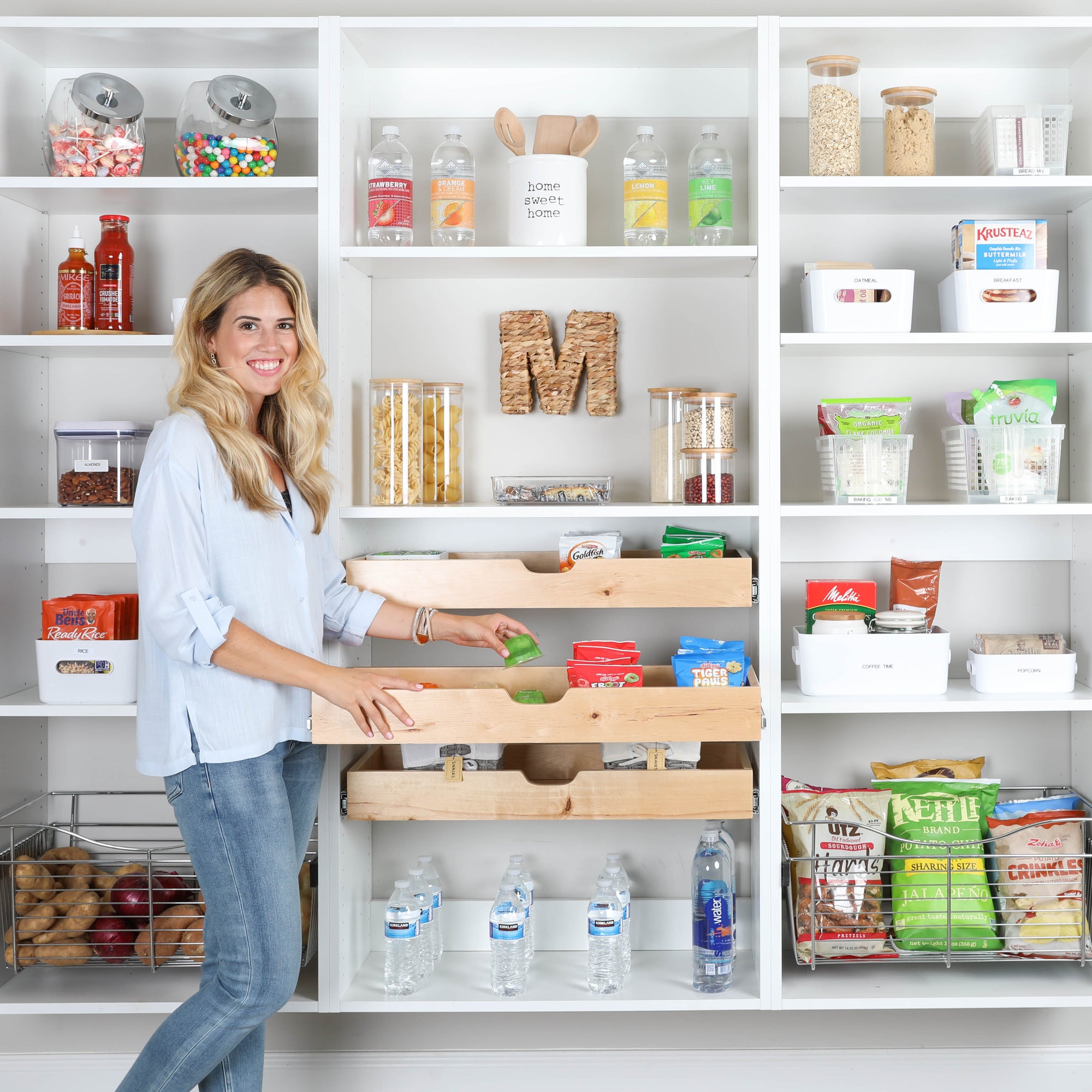 How to Keep Your Home Spooky Clean This Halloween
Published in 10.27.2021
The fall holiday season kicks off this weekend with Halloween. Between your spooky decorations, candy set up and clean up, this weekend could be daunting (and haunting you) in more ways than one.
Take the stress out of the weekend by planning ahead with Christina's tips for how to manage those buckets of candy, and how you can involve your kids in cleaning up before their sugar rush ends. Your house will stay fun and organized before you can say BOO. 
NO TRICKS, JUST TREATS
Tip #1: Organize Your Candy!
Stay organized by purchasing your candy by Friday and filling your candy bowls so you are ready for Halloween. Any candy you do not use can be organized in your pantry shelves. One of my favorite tips is using the modular pull out drawer for your candy because it makes it easy to pull out and grab whatever you need when the candy buckets need replenishment.

BONUS TIP: Before you fill your drawer or pantry shelves with current Halloween candy, declutter any old candy from last year. Don't worry, everyone does it ;) Simply declutter any expired and unused candy and start fresh this Halloween.

Tip # 2: Organize Your Halloween Decor

It is so important to keep all your holiday decor organized. There are lots of holidays throughout the year so the more organized we stay, the more time we can spend enjoying these special occasions. If you are a Halloween lover, then you may need a dedicated Halloween box, but if you only have a few decorations I suggest organizing them in a Halloween/Fall box. This allows you to organize:

Halloween

Fall

And Thanksgiving (this can be separate if you have a lot)

Tip # 3: Declutter And Organize Your Costumes 

Do you find your costumes accumulating over the years? I find that my home organizing clients did not want to waste the money they spent on costumes each year, but then admitted they only wore their costume once. If there are pieces of your costume you can incorporate in the future, or pieces you wear every single year, keep those and organize them in a bin labeled costume accessories.

This includes items such as:
Gloves

Hats

Glasses

Wigs

Shirts

Witch hat

Animal ears (always a good last minute costume!)
These are pieces you can always repurpose or wear again, and you may even be able to use for a class play or themed party.

Tip # 4: Last, But Not Least. Get the Whole Family Involved in the Clean Up!
Having the kids help with the clean-up plants those early seeds of organization your children will need to be successful in life. Studies show, kids who are given responsibility early on grow to be more self-confident and self-aware. Take this opportunity to activate the reward center of their brain, by allowing them to only taste all that Halloween candy AFTER they help you clean up. This will give them the incentive they need to participate, making the holiday weekend that much easier to manage!
Have a wonderful Halloween everyone!

Happy Organizing,
Christina :)
Tags
#betterlivingwithchristina
#modularclosetdiys
Cabinets
Christinascorner
Closet design
Closet drawers
Closet organization
Closet revolution
Diy
Garage
Garageproject
Home office
Home organization
How to get your closet organized
Kitchen
Laundryroom
Lifestyle
Memorial day weekend
Modualrclosets
Modularclosets
Mother's day
Newyears2021
Organization
Organization tips
Organizeme
Organizing tips
Pantry
Pantrygoals
Shelf dividers
Shoewall
Solid shelves
Spring cleaning
Sub-categorize
Summer
Summer organization
Valetrod