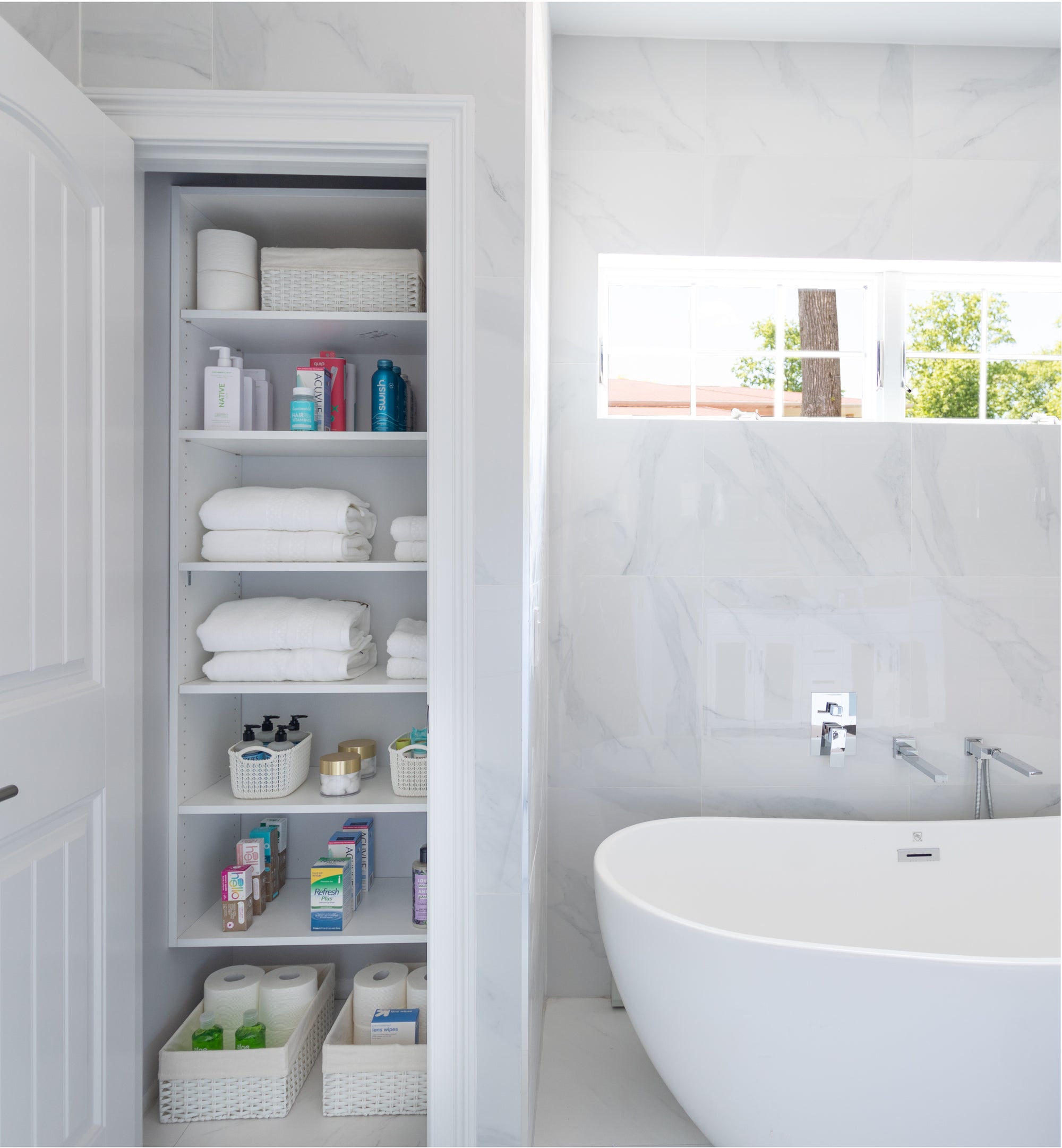 Midsummer Night Clean
Published in 8.12.2021
Summer can be a hectic time for staying organized. Between beach towels getting stored with your regular linens, to sunscreen and daily toiletries getting all mixed up, you may not know where to begin.
This week, Christina's got you covered for a midsummer clean that will help you stay organized until the very last days of summer!
SEPARATION—WITHOUT THE ANXIETY…
When it's possible, if you can separate your bathroom towels, pool towels, and regular linens in separate closets that would be ideal. It instinctively keeps everything in a designated section, making it easier to maintain your space. So, after you do your laundry, you know exactly where everything needs to go. That means, pool towels go in one closet—maybe a coat closet downstairs or mudroom, and your linens go in your regular linen closet, where you can easily access the items you use every day! That's bath towels, hand towels and bed linens.
NO SPACE? NO PROBLEM

If you do not have the ability to separate these items into all different closets, then a great organizing tip is to categorize into separate baskets or large bins. All your bathroom towels can be folded into one basket. Your pool towels can be folded in a second one, and lastly your linens in their own bin.
Using a basket or large bin keeps everything categorized, so you know exactly where to look for items when you need them.
ALL MIXED UP?
Is your face wash getting lost in the shuffle between sunscreen, bug spray and other summer essentials? I would suggest keeping sunscreen, bug spray and outdoor toys in the garage or pool shed etc. It makes it easier to grab when you're leaving the house. The more you can keep everything separate in its own designated section the better!
 If a shed or garage isn't available to you, one of my favorite organizing products is the modular closet shelf divider for instances like this.
It instantly creates sections and organizes your space beautifully!!
As always reach out anytime and let me know what I can help you with. I always look forward to hearing from you. Please don't be shy. DM us on Instagram @modularclosets or email me anytime. You can reach me at christina@modularclosets.com. Don't forget to follow Modular Closets on Facebook, Instagram, and Pinterest! We are also on YouTube and you can subscribe to our channel here!
Happy Organizing!   
-Christina Giaquinto
Tags
#betterlivingwithchristina
#modularclosetdiys
Cabinets
Christinascorner
Closet design
Closet drawers
Closet organization
Closet revolution
Diy
Garage
Garageproject
Home office
Home organization
How to get your closet organized
Kitchen
Laundryroom
Lifestyle
Memorial day weekend
Modualrclosets
Modularclosets
Mother's day
Newyears2021
Organization
Organization tips
Organizeme
Organizing tips
Pantry
Pantrygoals
Shelf dividers
Shoewall
Solid shelves
Spring cleaning
Sub-categorize
Summer
Summer organization
Valetrod