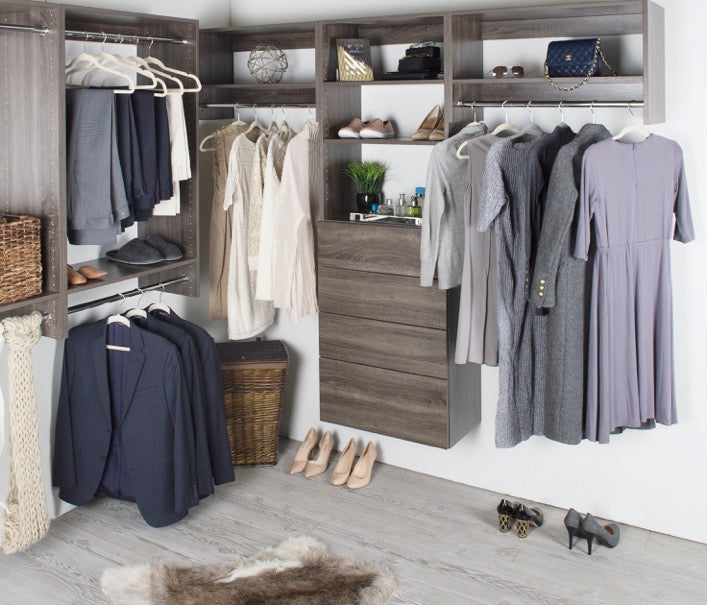 5 Common Mistakes in Home Organization - And How to Avoid Them!
Published in 3.22.2018
Ahh, Spring. It's that time of year for new life, warmer weather, and longer days.  It's the time when we pack away winter gear and start thinking about summer fast approaching (check-in: will you be ready for the beach in just a few months?) This time of year, even the messiest of us can start to feel the urge for some serious Spring cleaning. 
But where to begin? 
If we're trying to get our bodies ready for beach weather, we probably have a sense of the kinds of exercising and dietary practices we ought to pursue to get us moving toward our goals. But organizing our homes and our closets can be a less obvious kind of challenge….
In the quest for greater home organization, there are many mistakes that frequently get made by even the most well-intentioned home designers.  Here are 5 guidelines that can help you avoid the mistakes and achieve a better organization system...hopefully in the time you also achieve your Summer look!
Use All of Your Available Space
So many of us move into homes where the closets come with only a few shelves or racks, and even if we use them to the best and fullest extent we can, we're still left with closets full of wasted space. Most people have messy, disorganized homes because they have more things to store than they have storage space -- and when you're looking to increase your storage space, every square inch of your closet system counts.
Make the most of the full height of your closet walls with tall organization systems that fit the dimensions of your space. Make use of every nook and cranny with adjustable shelves and drawers that are custom fit to your room and your storage requirements.
You'll probably be surprised at how functional your closets and other storage areas can be when you make use of the space you have.
Follow the 80/20 Rule for Storage
You've probably heard of the 80/20 Rule (also known as the Pareto Principle), which is the idea that for many things in life about 80% of the effects come from about 20% of the causes.  Many designers believe this rule applies to the way we use and store our clothes: the majority of us spend 80% of our time wearing only 20% of our clothes (think about those favorite pairs of jeans you wear over and over versus that eveningwear you put on only maybe a few times a year).
If we want to be effective organizers, we should design our closets with this rule in mind.  The layout should provide for easy access to the items we use most frequently, while taking advantage of the hard-to-reach-spaces to store those things we'll only need to pull out once in a while. Can your closet system do this?
Invest in Quality Closet Materials
If you're going to put in the time and effort to organize your home, you want to make sure that your organization system will last.  So, look for tall closet systems that are made of quality materials and a thickness that provides for durability.
Here at Modular Closets, all our closets are made of top-grade 3/4" solid plywood with plywood drawers and top-quality hardware. We pride ourselves on building some of the sturdiest closets in the industry.   
Personalize Your Space for Your Needs
No two people are exactly alike, so no two closets should be either. You may be surprised to learn how simple and cost-effective it can be to get a closet system that matches your specific needs, things, and lifestyle goals. Storage options can add not only efficiency but a touch of style that is customized for you. Do you need lots of Shoe Shelves for a large collection? A Belt Rack? A Tie Rack? Do you need more Short Hanging Shelves or Long Hanging Shelves? Or more Drawers instead of Shelves? It's all up to you.
Modular Closets creates pieces you can mix and match and easily assemble to meet your closet needs.  And because we use modular units (in other words, standardized units for easy construction and arrangement) our prices are typically 40% less than standard custom closets.
Take Advantage of Our Free Design Service
Modular Closets offers Free Closet Design.  Just give us your closet measurements and some details of what you need from your closet system, and we'll create a design just for you. It's easy and risk-free, with no obligations. Just fill our online form or call us today at (855) 997-1391.
Find out how you can achieve better organization through better
closet design
.
Tags
#modularclosetdiys
Closet design
Closet drawer unit
Closet drawers
Closet organization
Closet revolution
Clutter zones
Design theory
Diy
Double hanging
Entrepreneur
Fen shui
Frank loyd wright
Frills and drills
Home organization
Home tour
How to design your closet
How to get your closet organized
How to measure your closet
Imby
In the news
Kids bedroom closet
Kids closet
Kids closet desk
Lindsay dean
Mariekondo
Measuring guide
Minimalism
Minimalist architecture
Modular
Modular closet diys
Modular closets diys
Modular magic makeovers
Modular super tips
New
Organization
Organization tips
Organizing tips
Pallet wood
Pantry
Pantrygoals
Part 1
Part 2
Press
Project 333
Psychology
Reading nook
Shoe shelves
Slanted ceiling
Spring cleaning
Spring cleaning 2017
Spring cleaning checklist
The essential closet makeover
Wall panel
Wallpaper
Why people hate wire shelves
Wire you here
Zen
Zen bhuddism