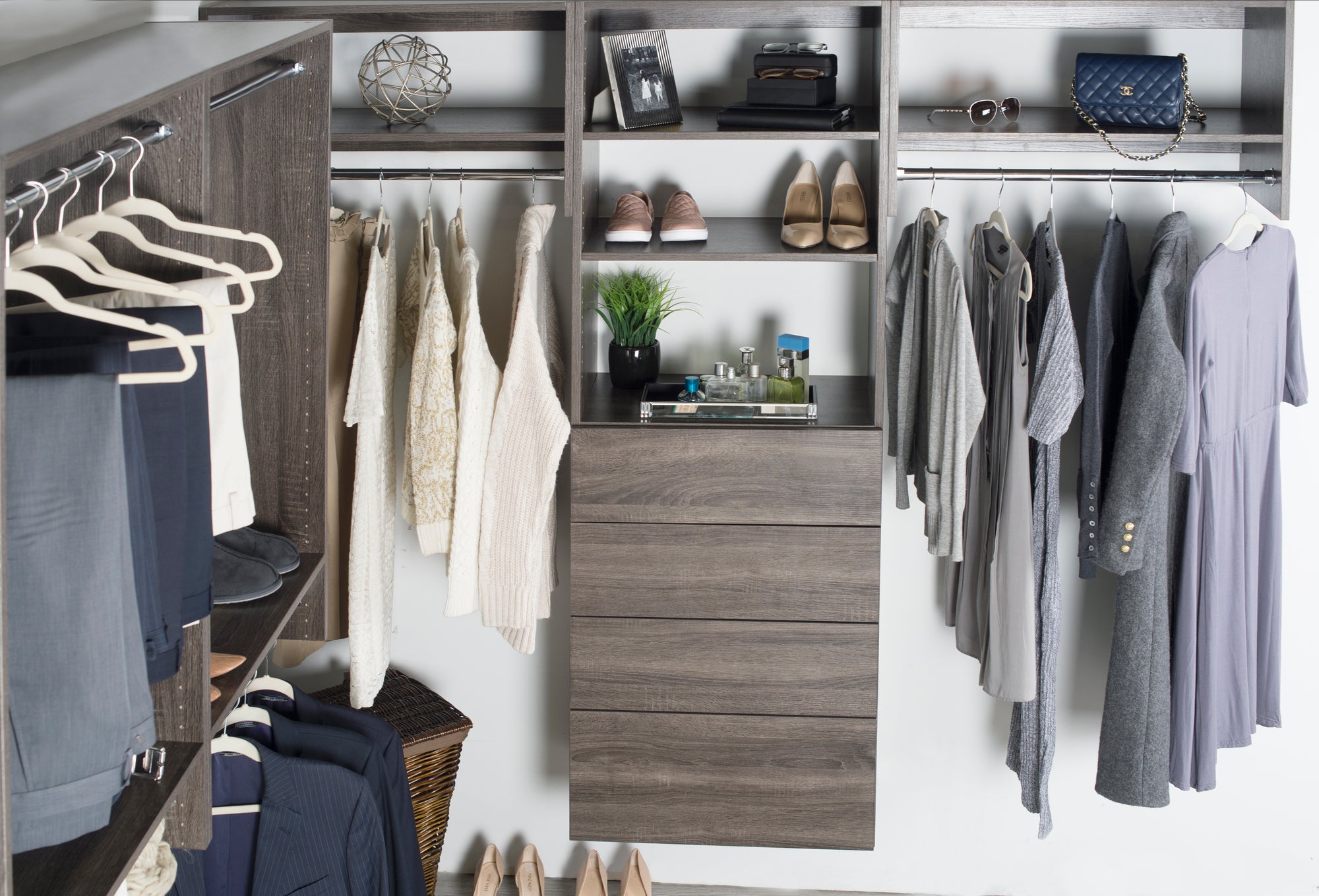 5 Quick and Easy Home Organization Tips You Can Do This Weekend
Published in 2.7.2019
If you're spending too much time getting ready in the morning, or coming home feeling just more exhausted by the sight of your disorganized house: don't worry – there can be a simple solution.  Home organization is all about getting your living space, and your life as a whole, under better control so you can live with more beauty, grace, and ease. 
Here at Modular Closets, we specialize in home organization solutions. We believe everyone can and should have a tidy, organized living space that's beautiful, simple, and affordable. With the right systems in place, keeping up with clutter is no problem.
Here are 5 quick and easy home organization tips you can get done in just one weekend to up-level your lifestyle:
1. Cut Down on Paper
If you've got piles of bills, mail, school projects, and paper notes lying around, it can be easy for clutter to accumulate.
Make a point to go through your random paper stacks at least once a week.  To reduce the chore, create designated spots where each kind of item can be sorted as it comes in – so that bills automatically go in a folder in your home office and your kids' school projects have a cubby where they're placed as soon as they're brought home.
To further cut down on paper, be proactive about signing up for paperless billing.  Also, make a point to scan and digitize documents so that you don't need to keep the paper versions. 
2. Choose Your Outfits for the Week
To streamline your weekday morning routine, spend a few minutes during the weekend choosing all your outfits for the coming week. 
Now is the time to check your clothes and make sure everything you want to wear is appropriately washed and wrinkle-free. You can organize your outfits on the hanging rods and drawers of your closets so that getting ready in the morning is as easy as picking up the next item in line. 
3. Make Your Everyday Kitchen Tools Handy
Kitchens can quickly get cluttered with the various tools used for cooking and serving.  Most people, though, have two kinds of kitchen tools: the ones they use every week (if not every day) and the ones that only come out for special meals.
To help improve your kitchen organization, go through your kitchen and store your everyday tools in the easy-to-reach spots, such on the countertop, in the front drawers, or front and center on the most accessible shelves of your cabinets. Tools that only get used on rare occasions can be stored away in long-term storage to free up extra space.
4. Add Some Drawer Dividers
Lots of people have "junk drawers" that are just a jumbled mess.
To help organize your small items, insert dividers into your drawers to create separate compartments for different kinds of things. This works especially well for bedroom drawers filled with socks, or jewelry, or other accessories as well as garage drawers filled with small tools.
5. Add Storage Solutions to Your Entryway
When you come home at the end of a long day, it's tempting to just want to drop everything as soon as you walk through the door. 
In order to keep your entryway organized, create storage solutions with drawers and shelves for those belongings you're continually bringing in and out, like briefcases or backpacks.  You may even want hooks for jackets or a bench that can be used for additional storage. With these storage options in place, it can be easy to put things away the second you walk through the door.
To find out more about creating long-term home organization success with a customized storage solution, check out our offerings at Modular Closets. Our modular solution to the custom closet allows us to create gorgeous plywood closet systems that are simple to DIY for a fraction of the cost of expensive designers.
Fill out our form to get a free closet design! 
Tags
#modularclosetdiys
Closet design
Closet drawer unit
Closet drawers
Closet organization
Closet revolution
Clutter zones
Design theory
Diy
Double hanging
Entrepreneur
Fen shui
Frank loyd wright
Frills and drills
Home organization
Home tour
How to design your closet
How to get your closet organized
How to measure your closet
Imby
In the news
Kids bedroom closet
Kids closet
Kids closet desk
Lindsay dean
Mariekondo
Measuring guide
Minimalism
Minimalist architecture
Modular
Modular closet diys
Modular closets diys
Modular magic makeovers
Modular super tips
New
Organization
Organization tips
Organizing tips
Pallet wood
Pantry
Pantrygoals
Part 1
Part 2
Press
Project 333
Psychology
Reading nook
Shoe shelves
Slanted ceiling
Spring cleaning
Spring cleaning 2017
Spring cleaning checklist
The essential closet makeover
Wall panel
Wallpaper
Why people hate wire shelves
Wire you here
Zen
Zen bhuddism