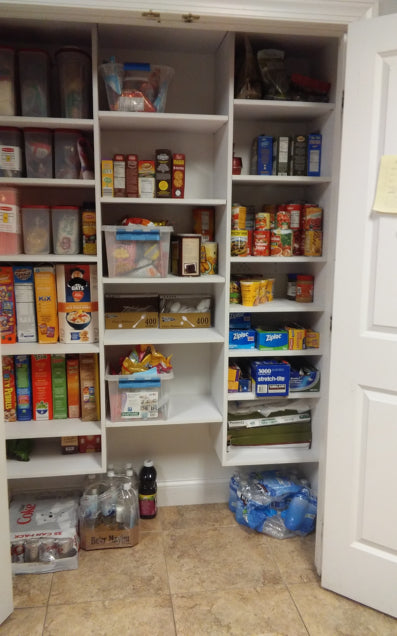 Easy Summertime Entertaining with Custom Closets for Your Kitchen
Published in 6.18.2018
Summertime is the season for barbecues, pool days, and relaxing outdoor gatherings with family and friends. It can be fun to play the host or hostess and entertain at your place – however, in keeping with the carefree spirit of the season, you want to keep any work to a minimum.
One of the best ways to keep entertaining simple is to make sure your kitchen and pantry are well organized. A closet system featuring quality closet shelving and drawers can be an investment that guarantees years of easy entertaining.

In order to make your summertime entertaining a breeze, here are 4 organization tips that will help
everything go smoothly once it's party time.
1. Sort It Out
One of the keys to successful entertaining is successful preparation. You want to make sure you have all the food supplies you need and that they are easily accessible. Consider organizing your necessary ingredients by the recipe. Use a few small bins to sort out the non-perishable ingredients needed for each dish ahead of time so you'll be all ready to cook when the time comes.
2. Make Labels
If you've sorted your ingredients into separate bins, you'll need to keep track of what you have. One way to stay organized is to make labels so that everything is clearly in order. Another quick trick is to place the recipe inside the bin. This way you have both the instructions and everything you need to make the dish right at hand.
3. Store Sensibly
It's one thing to have well-organized bins. You also need to think of how the bins fit in with the overall organizational system of your kitchen or pantry. Whether you use open shelves or closed drawers, think about storing similar groups of items together. For example, you may want to have one section dedicated to flour, sugar, and other baking supplies and another section that's for ready-made snacks. Many people who entertain frequently will often like to separate the plates and cups they use for guests from their everyday home goods.

Installing custom closets for your kitchen or pantry can ensure you have an organizational system that meets your needs.
4. Remember Your Kitchen Tools
As you organize your ingredients and food items, don't forget about the appliances and kitchen tools you'll also want within easy reach on party day.
If you have designated storage spaces for all your kitchen tools, they will be easy to access when you need them. Blenders, mixers, and grilling tools can be stored in drawers or on shelves to make the most efficient use of your available space. Try hanging spatulas and other large utensils on hooks attached to the wall.

With these organization techniques, you should be all ready for a fun summer at your place!
Tags
#modularclosetdiys
Closet design
Closet drawer unit
Closet drawers
Closet organization
Closet revolution
Clutter zones
Design theory
Diy
Double hanging
Entrepreneur
Fen shui
Frank loyd wright
Frills and drills
Home organization
Home tour
How to design your closet
How to get your closet organized
How to measure your closet
Imby
In the news
Kids bedroom closet
Kids closet
Kids closet desk
Lindsay dean
Mariekondo
Measuring guide
Minimalism
Minimalist architecture
Modular
Modular closet diys
Modular closets diys
Modular magic makeovers
Modular super tips
New
Organization
Organization tips
Organizing tips
Pallet wood
Pantry
Pantrygoals
Part 1
Part 2
Press
Project 333
Psychology
Reading nook
Shoe shelves
Slanted ceiling
Spring cleaning
Spring cleaning 2017
Spring cleaning checklist
The essential closet makeover
Wall panel
Wallpaper
Why people hate wire shelves
Wire you here
Zen
Zen bhuddism