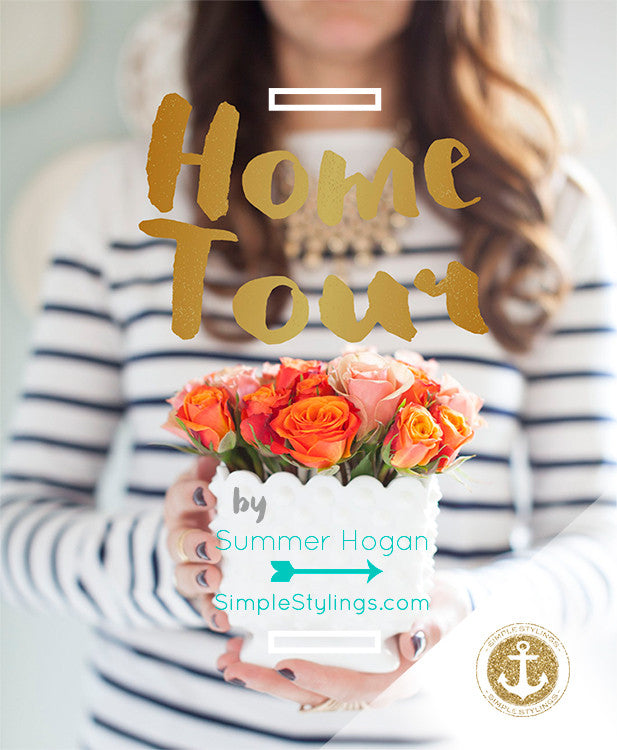 Home Tour :: Summer Hogan of SimpleStylings.com
Published in 8.23.2016
H O M E  T O U R  by  S U M M E R  H O G A N
It's been a total honor to have recently collaborated with the amazing Summer Hogan- expert DIY lifestylist, crafter, fashion expert, chef & mother, aside for everything else she is!
She granted Modular Closets an exclusive home tour showcasing all of her coolest DIY home making projects which we recently featured on our Instagram Stories account. Follow Summer's blog & Instagram account and witness true creative greatness!
Summer- Take it away!
Great to meet you! 
Can you tell us a little about yourself?
Awesome-sauce!
First DIY project on today's exclusive tour:
A DIY desk made from pallet wood & saw horses for your home office!
 Art Gallery wall displaying DIY art pieces!
What's cookin' in the kitchen? DIY Wine rack = l'chaim!

Up next: Our DIY Dining Room benches complete with cushy cushions, thanks mostly to Dad!
And in the living room- that wall tho! So easy!
The Bathroom that started it all : one of the first DIY projects, the stripes, dark painted cabinet, tiles by Dad & curtain make this nostalgia city!
Playroom DIY is a huge way to create a warm, playful environment for your child- even homework can be fun!
Son's Room: home of our newest DIY project - our Modular Closet!
With the new closet & cool DIY dresser we made, we've maximized his storage space for the easiest possible set up! 
Here's another pic of our closet: 
And that's my home! 
Hope you enjoyed! Come visit my blog & follow along for way more great projects & fun! 
A little about the author: 
Hi, I'm Summer of Simple Stylings and I am here to help YOU create simple style for your home and life.  I've been passionate about decorating and design for as long as I can remember and I am constantly re-decorating my little bungalow home that I share with my son. You can read a little about our family here and here.
Since I became a mom it has now become even more important for me to create a home and life that isn't perfect but is cozy and stylish.  I also believe that you can create your desired style on a limited budget during short spurts of time throughout your day.  I know as well as anyone how valuable your time is.  So, here you will find lots of simple, creative and often coastal inspired ideas that you CAN do!
Tags
#modularclosetdiys
Closet design
Closet drawer unit
Closet drawers
Closet organization
Closet revolution
Clutter zones
Design theory
Diy
Double hanging
Entrepreneur
Fen shui
Frank loyd wright
Frills and drills
Home organization
Home tour
How to design your closet
How to get your closet organized
How to measure your closet
Imby
In the news
Kids bedroom closet
Kids closet
Kids closet desk
Lindsay dean
Mariekondo
Measuring guide
Minimalism
Minimalist architecture
Modular
Modular closet diys
Modular closets diys
Modular magic makeovers
Modular super tips
New
Organization
Organization tips
Organizing tips
Pallet wood
Pantry
Pantrygoals
Part 1
Part 2
Press
Project 333
Psychology
Reading nook
Shoe shelves
Slanted ceiling
Spring cleaning
Spring cleaning 2017
Spring cleaning checklist
The essential closet makeover
Wall panel
Wallpaper
Why people hate wire shelves
Wire you here
Zen
Zen bhuddism