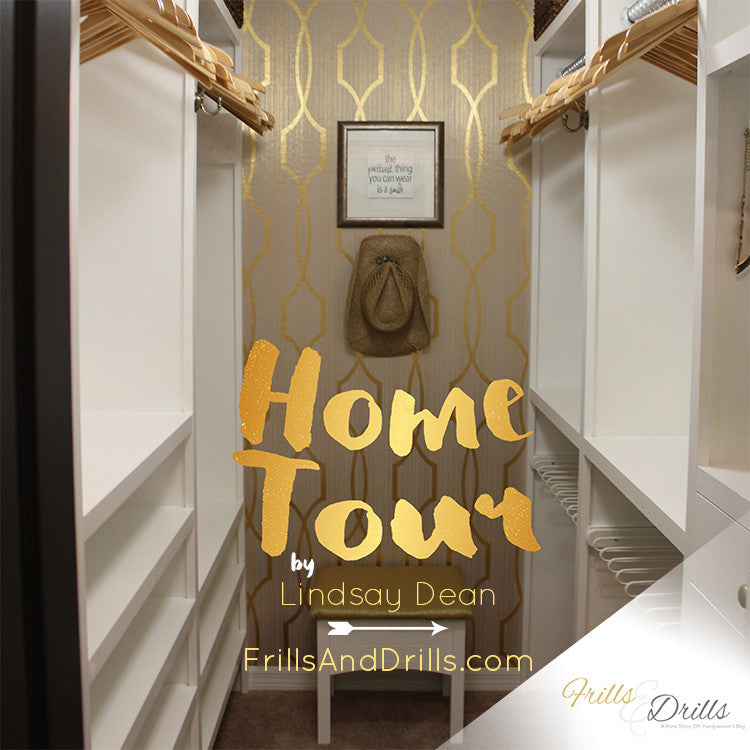 Home Tour :: by Lindsay Dean of FrillsAndDrills.com
Published in 8.26.2016
Home Tour :: by Lindsay Dean of FrillsAndDrills.com
Our recent Instagram Takeover by the DIY ninja master Lindsay Dean of Frills & Drills was met with huge fanfare & hearty slaps on the back from the #OrganizationNation.
Lindsay is a noted expert on DIY crafting & home decor, and makes herself heard as  proprietor of the ever-popular blog FrillsAndDrills.com. 
Lindsay was gracious enough to grant The Module an exclusive behind the scenes Home Tour of her home's most awesome spaces: her closets! 
Heeeere's Lindsay!
 Closet Tour -- Yay! 
First Closet on the tour today is Lindsay's son's nursery closet- which brings us to a HUGE congrats on the new baby!! 
And here's the master bedroom closet- a true masterpiece! 
Jewelry shelf 
And shoe shelves, of course!
Next up, the new Modular Closet for another bedroom- sweet!
 Watching the DIY master at work!
Thanks Lindsay! 
Frills And Drills On Instagram >>>
A Bit About The Author: 
Welcome!  I am Lindsay, a wife, mom, DIY enthusiast and lover of all things pretty.  I was born and raised in Florida and graduated from the University of Florida with a degree in Finance.  I'm a full time Credit Union Supervisor by day and a part time handy-woman by night.  Call me crazy, but I love math and all things numbers which is why I enjoy designing and building projects all over my house.
Frills & Drills is where I document my obsession with home improvement, home decor & organization.  People often ask me when and how I became so handy.  It's funny to me because I never set out to become a handy-woman.  It happened more out of necessity.  I have that champagne taste on a beer budget so I had two options; make it myself or don't get it at all.  The other question I get asked is "What will I do when I finish decorating my house?"  To me, the answer is easy.  I will just start over!  And because of that, I am thankful I have a husband who supports my constant project craze and nods his head with a smile at my ever changing style.
Tags
#modularclosetdiys
Closet design
Closet drawer unit
Closet drawers
Closet organization
Closet revolution
Clutter zones
Design theory
Diy
Double hanging
Entrepreneur
Fen shui
Frank loyd wright
Frills and drills
Home organization
Home tour
How to design your closet
How to get your closet organized
How to measure your closet
Imby
In the news
Kids bedroom closet
Kids closet
Kids closet desk
Lindsay dean
Mariekondo
Measuring guide
Minimalism
Minimalist architecture
Modular
Modular closet diys
Modular closets diys
Modular magic makeovers
Modular super tips
New
Organization
Organization tips
Organizing tips
Pallet wood
Pantry
Pantrygoals
Part 1
Part 2
Press
Project 333
Psychology
Reading nook
Shoe shelves
Slanted ceiling
Spring cleaning
Spring cleaning 2017
Spring cleaning checklist
The essential closet makeover
Wall panel
Wallpaper
Why people hate wire shelves
Wire you here
Zen
Zen bhuddism