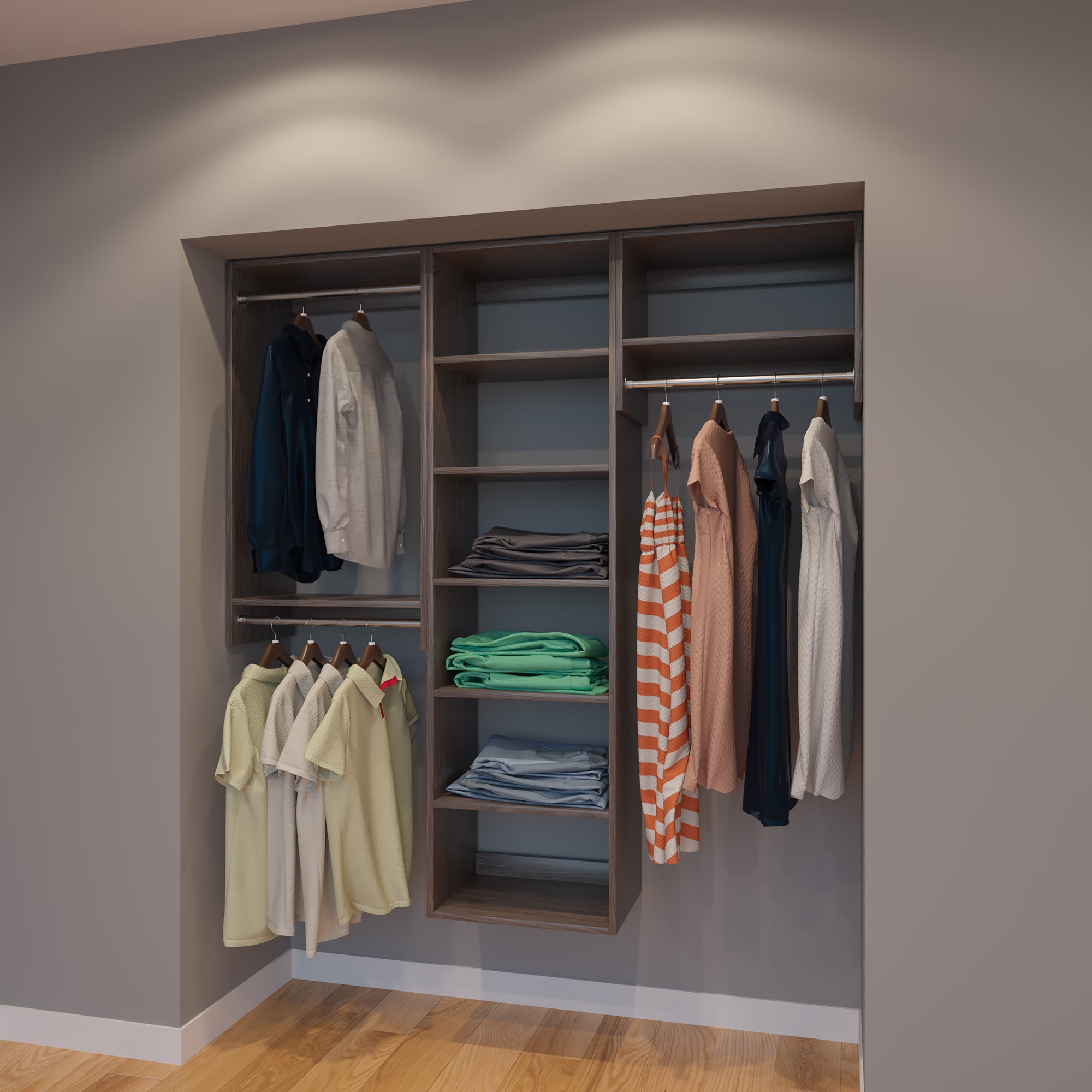 Working from Home Due to Coronavirus? Make Sure Your Home Office is Set-Up for Productivity
Published in 2.24.2020
Due to COVID-19 and the necessity of social distancing, you may be one of the many millions around the world suddenly working from home. If so, you need to make sure you'll be able to stay productive even working from your home office.
Our team here at Modular Closets wants to do everything we can to help support our community during these challenging times. So, we've put together this list of suggestions to help you optimize your home office. 
Here are five aspects of your home office you may want to improve to help you be more productive when working from home: 
1. Lighting
In order to perform your best on the job, you need sufficient lighting for your tasks. Though your computer monitor may glow, it won't give you the light you need to work productively for hours at a time.
One good option is recessed lighting – if you install a dimmer switch to go with it, you can control the lighting to give you more or less light depending on the time of day and weather conditions. Decorative wall sconces and desk lamps can add an aesthetic touch as well as give you multiple lighting options.
Pro tip: consider using "smart" or "happy" lights or light therapy bulbs as part of your lighting. These provide the close simulations to natural daylight, which can help boost your alertness and your mood.
2. Office Furniture
If you're going to be spending hours and hours at your desk, you want office furniture that will meet your needs for both form and function.
Your desk should be sturdy and large enough to handle all your equipment – but be wary of a desk that's too large, as it will easily get cluttered, and clutter can detract from your productivity. 
As you're choosing a desk, consider which style will help you work your best. Some people love the coziness of a solid wood desk while others are charged up by an industrial design.
Another key consideration is your office chair. Many chairs nowadays are designed to give support to your back and shoulders and can be customized to fit your size. Or – you may want to take this opportunity to try a standing desk!
3. Flooring
You might not think much about your office floor, but the choice can have a major impact on your space.
Ideally, you want flooring that will be easy to maintain. However, certain easy-to-maintain floor choices may change the acoustics of your space, which could affect your productivity. Consider your personal sense of style and choose a floor that inspires you – some people may love a cozy rug, but for others too much coziness leads to laziness.
4. Colors & Artwork
Which colors make you feel energized and ready to tackle the most important assignments of the day?
Many people find that bright colors can be distracting, but sometimes a bold accent of color can improve your emotional state and thus your productivity too. On the flip side, "boring" neutral shades can feel clinical, dull, and demotivating.
Ideally, you want to choose a color scheme that makes you feel calm but focused, energized but not exhausted.    
Sometimes, incorporating a piece of art is all it takes to transform the overall feel of a home office. Maybe an inspirational quote or a scene from your favorite trip will help motivate you to work at your best?
5. Storage Capacity
Whatever you choose for your home office layout, don't forget that "less is always more." This especially applies to keeping your home office free from clutter.
You may want to choose a desk with drawers to help keep your office organized. Another solution might be to incorporate a system of open shelves, which can transform an otherwise empty wall into an attractive, functional storage solution.
If you're interested in new shelves and drawers for your home office, our Modular Closets team can help with inspiration and expert advice.
Get a FREE closet design for your home office here!
Tags
#modularclosetdiys
Closet design
Closet drawer unit
Closet drawers
Closet organization
Closet revolution
Clutter zones
Design theory
Diy
Double hanging
Entrepreneur
Fen shui
Frank loyd wright
Frills and drills
Home organization
Home tour
How to design your closet
How to get your closet organized
How to measure your closet
Imby
In the news
Kids bedroom closet
Kids closet
Kids closet desk
Lindsay dean
Mariekondo
Measuring guide
Minimalism
Minimalist architecture
Modular
Modular closet diys
Modular closets diys
Modular magic makeovers
Modular super tips
New
Organization
Organization tips
Organizing tips
Pallet wood
Pantry
Pantrygoals
Part 1
Part 2
Press
Project 333
Psychology
Reading nook
Shoe shelves
Slanted ceiling
Spring cleaning
Spring cleaning 2017
Spring cleaning checklist
The essential closet makeover
Wall panel
Wallpaper
Why people hate wire shelves
Wire you here
Zen
Zen bhuddism