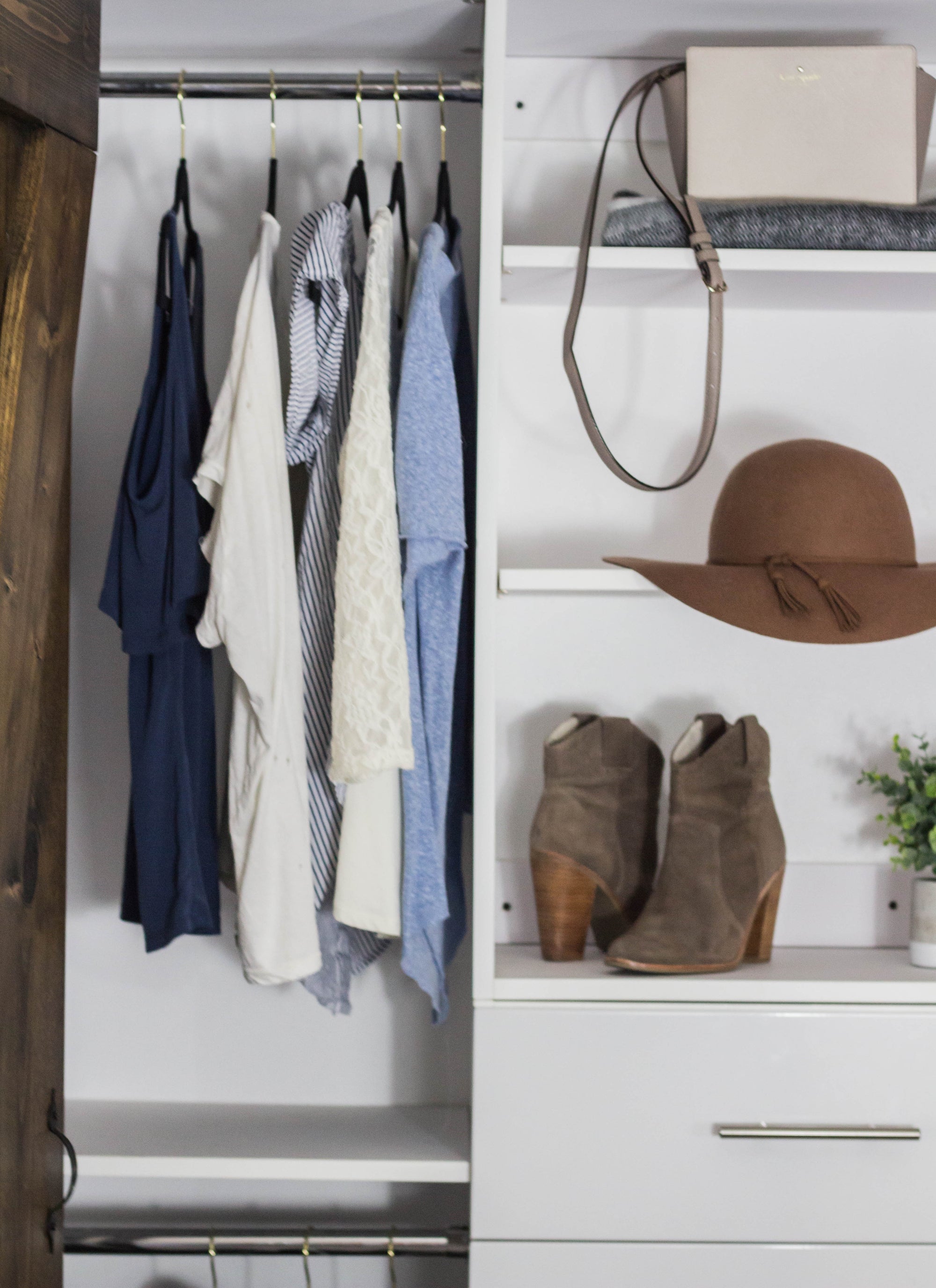 3 Easy Steps to De-Clutter Your Closet for an Organizational Makeover
Published in 8.15.2018
If you're getting ready to install a new closet system – or if you're just plain sick and tired of living with a cluttered mess – then now is a good time to get your closet organized.
Ideally, you ought to be re-evaluating your closet contents and organizational system a few times every year, for example during a Spring Cleaning or when transitioning to your Winter wardrobe.  But everyone has to start somewhere, sometime.  And the good news is, once you go through a major closet purge and organizational re-do, it becomes easier in the future to keep the organizational system going with just a few minor tweaks.
If you want to create a streamlined closet that will look fabulous and make your day-to-day routine much easier, then follow these 3 simple expert tips:
1. Remove EVERYTHING
While it may seem overwhelming at first to have to empty out your entire closet, this step is crucial to your long-term organizational success.
So, find a time when you can spend a few hours on this project, and take out every (yes, every!) item from your closet – every piece of clothing, every shoe, every accessory.
It may seem like a lot, but your goal is to become more discerning about what will go into your closet.  And the best way to do this is to start with a blank canvas.
2. Divide Your Contents into 4 Separate Piles
Once you have removed every item, you'll want to sort everything into 4 piles:
Items to Throw Away
Items to Donate
Items to Keep in Storage
Items to Keep and Put Back in the Closet
As you sort through your belongings, anything that is ripped, torn, faded, or stained is a prime candidate to be thrown away.  This is your opportunity to start fresh, with a selected wardrobe composed of only your best items.  So, when in doubt, throw it out.
Perhaps you have items that are still in good shape, but they no longer fit you or your wardrobe needs and desires. One of the best things you can do with such items is to give them away or consign them. Think back over the past year – if you haven't used this item in a year and have no definite plans to wear it in the future, then it's a good idea to give it away.
Pro tip: don't keep something just because you "may" need it or fit into it again.  This moment right here and now is your opportunity to streamline your wardrobe down to what you actually will use.  So, if it's a "maybe," then consider it a "no."
At this point, you should have a much smaller collection of items you will be keeping.  Of these, determine which are the items you are only keeping for special use or sentimental reasons (and there shouldn't be to many of these!).  These items can be put away in long-term storage.
Now, you should have only a small pile of items you use regularly – these are the items for your newly curated closet!  
3. Sort as You Put Things Back
To create a closet that is both easy-to-use and beautiful, you'll want to sort the items you'll be keeping in the closet into different categories: pants, dresses, skirts, long-sleeve shirts, short-sleeve shirts, etc. Then, further subdivide these categories into causal vs. formal, long vs. short.
Pro tip: once you have your sections in place, organize each by color to create a lovely coordinated palette.
As you return your items, make sure to leave about an inch of space between each one.
To make the most use of the space available in your closet, you will want to have a quality closet system in place, with open shelves for your shoes, closed drawers to organize your accessories, and multiple hanging rods for your clothes of various lengths. 
Modular Closets offers a modular solution to custom closets, making it possible to have all the benefits and beauty of a custom closet system at a fraction of the cost.
You can begin designing the perfect customized closet for you for free! 
Tags
#modularclosetdiys
Closet design
Closet drawer unit
Closet drawers
Closet organization
Closet revolution
Clutter zones
Design theory
Diy
Double hanging
Entrepreneur
Fen shui
Frank loyd wright
Frills and drills
Home organization
Home tour
How to design your closet
How to get your closet organized
How to measure your closet
Imby
In the news
Kids bedroom closet
Kids closet
Kids closet desk
Lindsay dean
Mariekondo
Measuring guide
Minimalism
Minimalist architecture
Modular
Modular closet diys
Modular closets diys
Modular magic makeovers
Modular super tips
New
Organization
Organization tips
Organizing tips
Pallet wood
Pantry
Pantrygoals
Part 1
Part 2
Press
Project 333
Psychology
Reading nook
Shoe shelves
Slanted ceiling
Spring cleaning
Spring cleaning 2017
Spring cleaning checklist
The essential closet makeover
Wall panel
Wallpaper
Why people hate wire shelves
Wire you here
Zen
Zen bhuddism