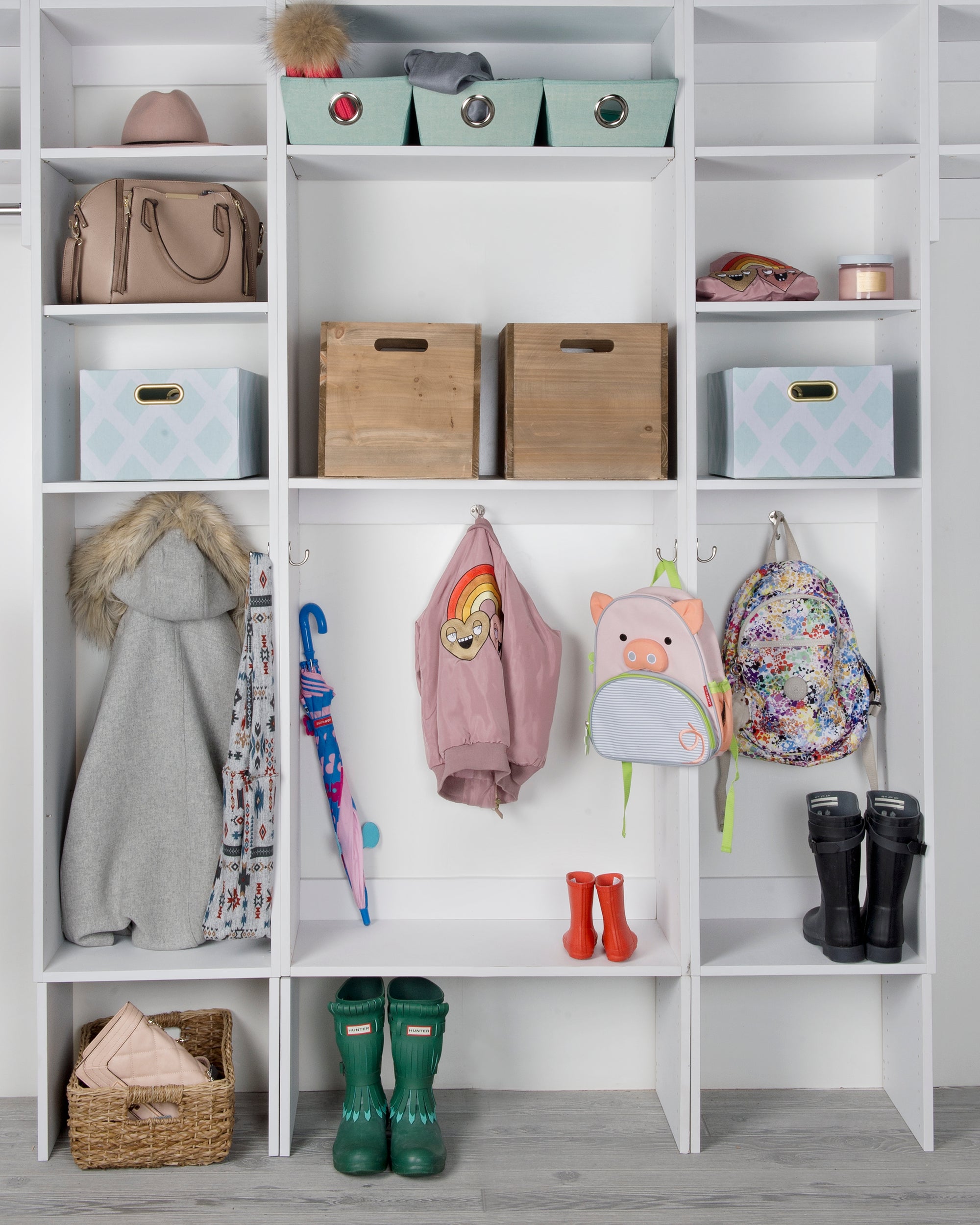 4 Closet Organization Tips for New Moms
Published in 8.20.2018
It's an exciting time when you arrive home from the hospital with your brand-new baby -- but, as all new moms know, it can also be stressful and sometimes downright overwhelming, especially for the first few months. Bringing home baby also means bringing home lots of baby stuff: diapers, clothing, toys, etc. Now more than ever you need an effective closet system that will make it easy to keep organized. 
When setting up a nursery, most new parents-to-be spend lots of time planning the perfect crib, the perfect nursing chair, the perfect inspiring wall design. But you also might want to consider the perfect custom closet.  Not only will a quality custom closet add elegance to your new baby's room, it will also make life simpler and more efficient for you as a new mom.
If you'd like to put in place a closet system to improve your home organization, a quality closet that will benefit both you and your growing family, here are 4 tips to try:
1. Sort All the Clothes
Babies grow so quickly, and they're bound to make so many messes throughout the day – these are a just some of the top reasons you'll want to have many baby clothes on hand. But having so many outfits can soon become overwhelming.  
You'll want a system in place so you can find the clothes you want when you want them.
There are many ways you can organize your baby's clothes.  Some new moms like to divide them up by size, while other moms swear by dividing them up according to season or use.  You want to find an organization that make sense to you. 
But whatever your plan for organization, the key is to stick with it.
2. Get Rid of Clutter
Your baby's closet will undoubtedly be filled with many small accessories, like countless pairs tiny socks.  What you don't want is for all these small items to turn into a big cluttered mess. 
One of the best ways to minimize clutter is to make use of closed drawers, baskets, and dividers. Make sure each small item has a designated space where it belongs in a place that's carefully hidden from plain view.
It's easy to let your new baby's things accumulate.  One of the best ways to keep the nursery from becoming cluttered is to prevent the clutter from the outset.  Once you have your new closet system in place, anything that doesn't fit within your organizational plan can be put away in long-term storage, or maybe even graciously given away.
3. Get Your Week Set Up in Advance
Mornings with a newborn infant can quickly become hectic and difficult. One strategy to make the daily routine easier is to set up your baby's outfit plan in advance for the week. 
You can use a valet rod or other specially designated hanging rod to layout the morning outfits seven days in advance.  That way when it's time to get dressed and ready to go, you don't have to worry about choosing an outfit, you just have to quickly grab the next outfit in line.
4. Prepare for the Future
Your baby's needs will be changing quickly. Make sure your closet design will serve you for the future.
Horizontal rows of hanging rods can be changed to accommodate larger items of clothing as your child grows. Drawers and shelves can be re-organized to meet a new purpose, for example a shelf for toys can soon make way for school supplies. A quality custom closet will have the flexibility to adapt to your child's growing needs.
Modular Closets makes it possible to get a quality custom closet at an affordable price – the secret is our modular solution to the custom closet. You can get a free closet design.
Tags
#modularclosetdiys
Closet design
Closet drawer unit
Closet drawers
Closet organization
Closet revolution
Clutter zones
Design theory
Diy
Double hanging
Entrepreneur
Fen shui
Frank loyd wright
Frills and drills
Home organization
Home tour
How to design your closet
How to get your closet organized
How to measure your closet
Imby
In the news
Kids bedroom closet
Kids closet
Kids closet desk
Lindsay dean
Mariekondo
Measuring guide
Minimalism
Minimalist architecture
Modular
Modular closet diys
Modular closets diys
Modular magic makeovers
Modular super tips
New
Organization
Organization tips
Organizing tips
Pallet wood
Pantry
Pantrygoals
Part 1
Part 2
Press
Project 333
Psychology
Reading nook
Shoe shelves
Slanted ceiling
Spring cleaning
Spring cleaning 2017
Spring cleaning checklist
The essential closet makeover
Wall panel
Wallpaper
Why people hate wire shelves
Wire you here
Zen
Zen bhuddism