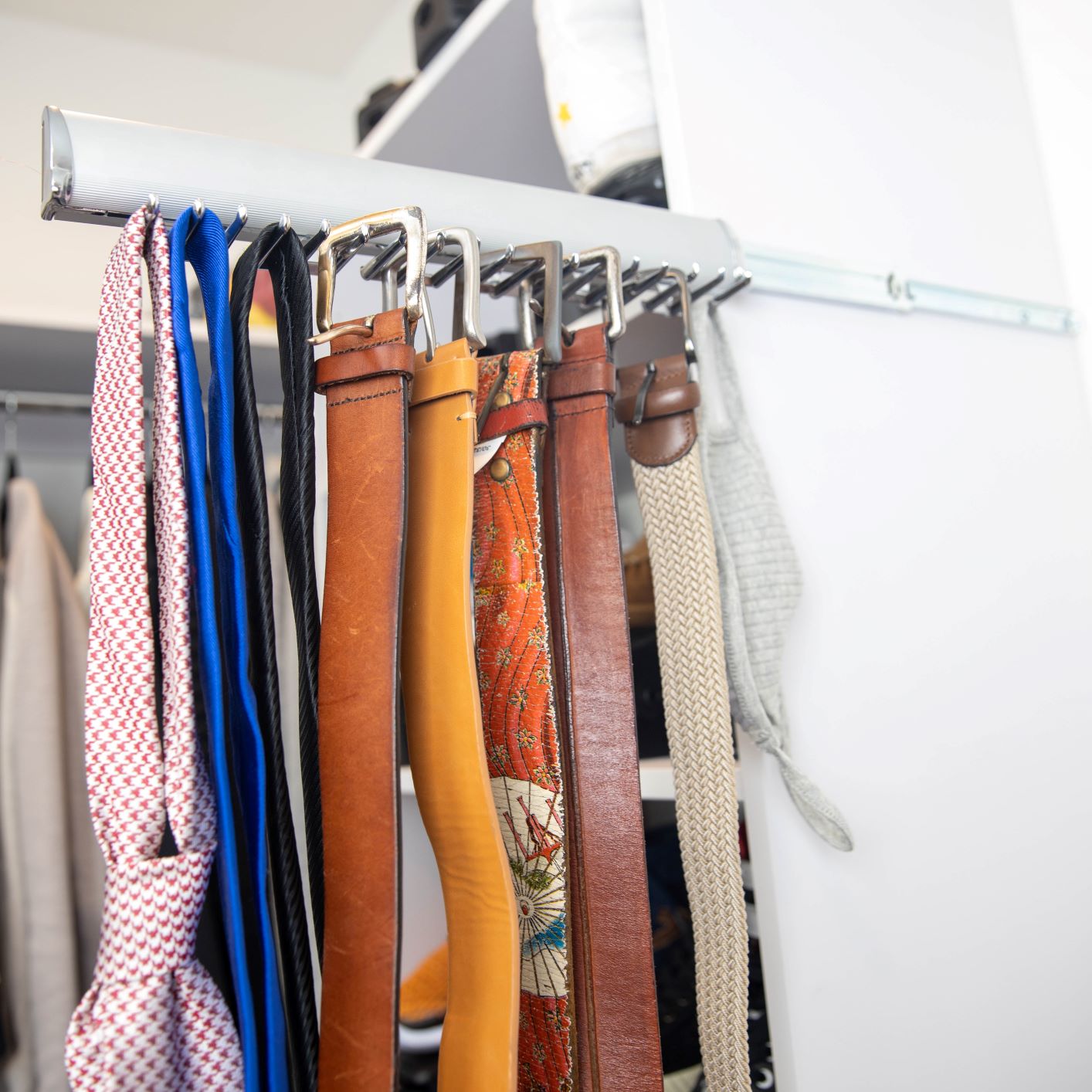 Christina's Corner // How to Organize Your Belts!
Published in 2.4.2021
Hello everyone and welcome back to my series on closet accessories from Modular Closets! This week, everyone is talking about the Super Bowl and wanted to show you some of the accessories that were built specifically with the men in mind. 
Two of our most popular accessories are our tie racks and our belt racks. Today, our focus will be on the belt racks, but you definitely will want to pick up a tie rack while you're getting your belt rack.
The Function of the Belt Rack
A belt rack seems somewhat self-explanatory, however, it is one of our most diverse products. The main function, of course, is to hang your belts up in your closet to keep them organized and unharmed. Many people tend to roll their belts and ties, which is perfectly fine, but they are often hard to store in that position and depending on the material, rolling the belts up can be detrimental to the integrity of the accessory. 
Keep the Visual Clutter Away
The Modular Closets Belt Rack is retractable and will slide very easily into a tucked away position to keep your space uncluttered. You can easily maintain the clean aesthetic of an organized closet while utilizing the open spaces on the sides of your Modular system. 
If you are anything like me though, you may have an assortment of difficult-to-store items in your closet. I don't have a lot of belts, but I am able to add hats, small bags, and even a necklace or two on my belt rack and keep those items easily accessible as well. They are also great for holding face masks. You can hang all of your everyday essentials in one easy location so you can grab-and-go in the morning with no hassle. 
#ProTip
For a very easy morning, you can place your belt rack close to your valet rod and have your whole outfit and accessories ready to go! 
Take the Next Steps
If you would like to purchase your own belt rack, you can find a link here and you can also find the rest of the accessory line here. How will you utilize your belt rack? Leave me a comment below and let me know what you are hanging on your belt rack! 
Don't forget to follow Modular Closets on Facebook, Instagram, and Pinterest! We are also on YouTube and you can subscribe to our channel here! If you missed my last blog post, you can read it here! 
Happy Organizing! 
-Christina Giaquinto
Tags
#betterlivingwithchristina
#modularclosetdiys
Cabinets
Christinascorner
Closet design
Closet drawers
Closet organization
Closet revolution
Diy
Garage
Garageproject
Home office
Home organization
How to get your closet organized
Kitchen
Laundryroom
Lifestyle
Memorial day weekend
Modualrclosets
Modularclosets
Mother's day
Newyears2021
Organization
Organization tips
Organizeme
Organizing tips
Pantry
Pantrygoals
Shelf dividers
Shoewall
Solid shelves
Spring cleaning
Sub-categorize
Summer
Summer organization
Valetrod