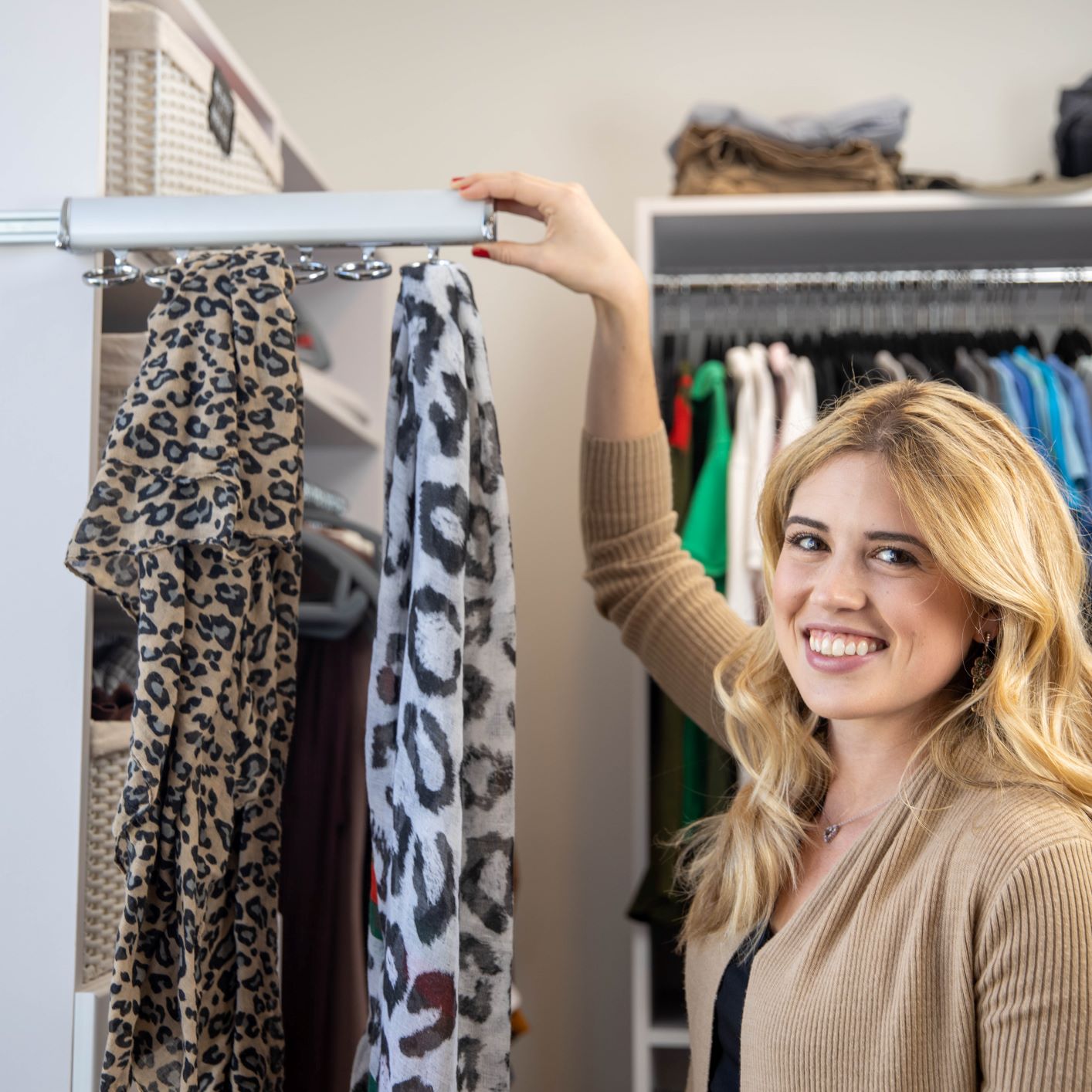 Christina's Corner // How to Solve Your Scarf Storage Problem!
Published in 1.28.2021
Hello and happy Thursday! I have another tip video and blog for you today as we continue through highlighting Modular Closets' accessory line. We have talked about the valet rod, the wire baskets, and even the Hamper, but we haven't discussed some of our more specialized accessories. 
Today, we are going to be discussing the Scarf Rack. 
Scarves are some of the trickiest items to store. They can be made with a broad range of materials and hold different purposes in your wardrobe. They often get tossed into a bin and it becomes impossible to see what you have. I have found some scarves in the most random places because people just don't know how to store them. 
One way to organize your scarves is to roll them into a rose-type knot and place them in a bin or drawer with dividers, but if you want to be able to see them all, I highly recommend that you choose a Modular Closets Scarf Rack. 
The Scarf Rack is retractable and sits flush with your closet system so your scarves are neat and tucked away, yet allows them to be easily accessible. Ami McClure has her scarf rack on the outside of her system so that she can create a display moment with all of her scarves. It's a beautiful effect with a practical tool. 
Modular Closets is always working to find storage solutions for your everyday needs. You can find their full accessory line here and you can find more of my blogs on their products, along with organizational tips and tricks here!
Don't forget to follow Modular Closets on Facebook, Instagram, and Pinterest! We are also on YouTube and you can subscribe to our channel here! If you missed my last blog post, you can read it here! 
Happy Organizing
-Christina Giaquinto
Tags
#betterlivingwithchristina
#modularclosetdiys
Cabinets
Christinascorner
Closet design
Closet drawers
Closet organization
Closet revolution
Diy
Garage
Garageproject
Home office
Home organization
How to get your closet organized
Kitchen
Laundryroom
Lifestyle
Memorial day weekend
Modualrclosets
Modularclosets
Mother's day
Newyears2021
Organization
Organization tips
Organizeme
Organizing tips
Pantry
Pantrygoals
Shelf dividers
Shoewall
Solid shelves
Spring cleaning
Sub-categorize
Summer
Summer organization
Valetrod