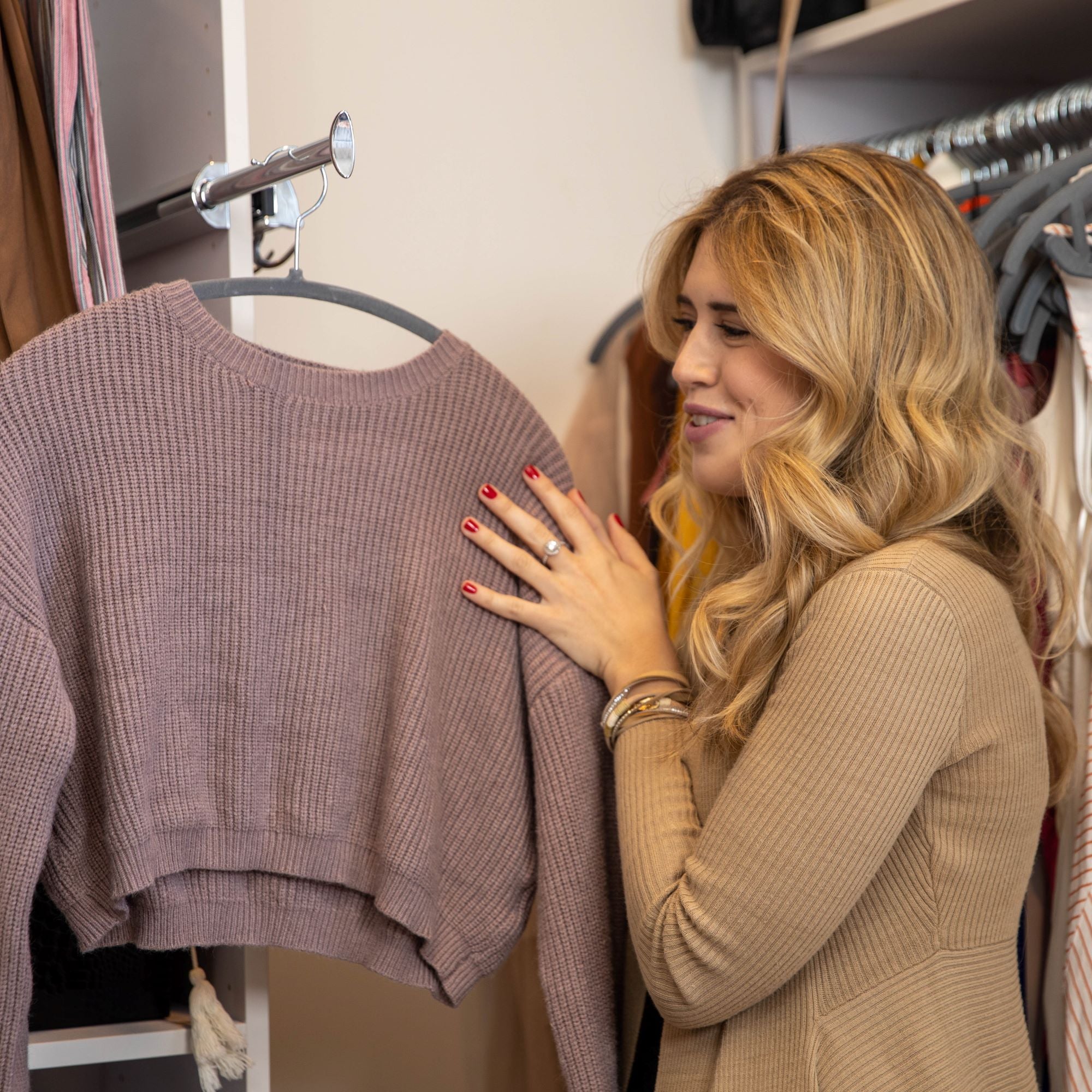 Christina's Corner // Valet Rods Are Here For You!
Published in 12.17.2020
Welcome back to another week with Christina's Corner! We are starting a series on accessories and over the next few weeks, we will be reviewing, in detail, all of the most popular accessories that Modular Closets has to offer.
Here we are again, revisiting the valet rod. I have already written a blog on this particular phenomenon, but as we move forward, I want to be sure that no one misses the opportunity to learn about my favorite Modular Closet accessory. 
Here are the basics: it's a retractable rod that slides in and out of your closet system to provide a stand-out spot to hang various items that you need easy access to. 
Here is why I think it's impressive: The valet rod literally saves me 10-15 minutes of my morning so I don't have to search through my wardrobe and figure out an outfit for the day. But if that was all that it was good for, I wouldn't be writing ANOTHER blog on the subject. 
Sure, you can lay your clothes out on a chair or at the end of the bed, but what the valet rod provides is a solution to clutter. Your closet and your bedroom will maintain their organization and so will your routines. Also, the fact that the rod is retractable helps me so much. If I don't need to plan out my next day, all I do is slide the bar back into my closet system and it's not in my way, ever. 
Taking the time to consider the next day and plan ahead will provide you with more time the next morning to wake up and smell the roses. You can probably make room to finish a whole cup of coffee instead of trying to chug it on your commute.
If you don't have a commute and are working from home, this valet rod will still work for you! Many people have realized over the course of the pandemic that taking the time to get dressed and ready - as if they are going into the office- assists in the productivity of the workday and helps them get into the work mindset as they go about working in abnormal conditions. This also leads to less Zoom call wardrobe mishaps. 
Whatever your situation, the valet rod is the tool you need to organize your life. I highly recommend it and you can find a direct link to the product here. 
For more tips and tricks, visit my blog Christina's Corner and follow Modular Closets on Instagram, Facebook, and Pinterest. You can see my first blog on the valet rod here, and if you missed last week's blog on the magic of shoe walls, you can find that here! 
Happy Organizing! 
-Christina Giaquinto
Tags
#betterlivingwithchristina
#modularclosetdiys
Cabinets
Christinascorner
Closet design
Closet drawers
Closet organization
Closet revolution
Diy
Garage
Garageproject
Home office
Home organization
How to get your closet organized
Kitchen
Laundryroom
Lifestyle
Memorial day weekend
Modualrclosets
Modularclosets
Mother's day
Newyears2021
Organization
Organization tips
Organizeme
Organizing tips
Pantry
Pantrygoals
Shelf dividers
Shoewall
Solid shelves
Spring cleaning
Sub-categorize
Summer
Summer organization
Valetrod